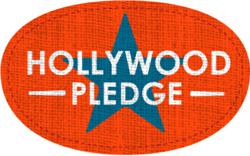 The Largest Philanthropic Movement in Hollywood History
Hollywood, CA (PRWEB) June 01, 2011
Inspired by Bill Gates & Warren Buffett's Giving Pledge, the Give Back Hollywood Foundation has brought together some of the biggest names in music, fashion, sports and entertainment to demonstrate their commitment to philanthropy with the launch of the "Hollywood Pledge" and its website http://www.HollywoodPledge.com. Stars who have already taken the Pledge include Laurence Fishburne, Richard Gere, Dwight Howard, Hugh Jackman, Jewel, Kim Kardashian, Ricky Martin, Kelly Osbourne, Rachel Zoe, Jordin Sparks, Denzel Washington, and many others.
Celebrities take the Hollywood Pledge through the HollywoodPledge.com website and list the charity or charities they support. Fans are also encouraged to give back, whether through monetary donations, volunteer work, or just getting involved in their communities to make a difference.
"For more than seven years, The Give Back Hollywood Foundation has linked celebrities with meaningful causes and produced hundreds of charity events, especially those focused on children, health and disaster relief," explains founder and president Todd Krim. "The Hollywood Pledge, inspired by the 'Giving Pledge,' is a natural evolution of this effort and intended to drive the adoption of charity causes by the leading figures in entertainment, which in turn can become an incredible motivator for fans worldwide to embrace the same commitment."
The ABC Television Network, The Hollywood Reporter and the Screen Actors Guild Foundation have signed on as official partners of the Hollywood Pledge. All three of these organizations have pro-social initiatives, ABC's "A Better Community," The Hollywood Reporter's July issue focusing on "Philanthropy and Hollywood," and the Screen Actors Guild Foundation's Children's Literacy Initiative. Additional sponsors of the Pledge include JetBlue, Fashion Forms, Glam Rock Watches, Coca-Cola, L'Anza Healing Haircare, LePosh Salon, Niche Your Home, Coffee Bean, Honfoto and Fig & Olive.
The Give Back Hollywood Foundation will host an exclusive VIP Hollywood Pledge Launch Party and Beauty Retreat at a private mansion in Beverly Hills on Saturday, June 4th from 11:00 a.m. to 4:00 p.m. Guests will be introduced to the Pledge and given the opportunity to use social media to support various charities including DoSomething.org (http://www.dosomething.org), Cancer Research Institute (http://www.cancerresearch.org), Can-Do (http://www.can-do.org), the Screen Actors Guild Foundation (http://www.sagfoundation.org) and Children's Miracle Network Hospitals (http://www.cmnhospitals.org) which will be launching its 100 Million Miracles Campaign at the event. Guests will also be treated to beauty services such as massages, manicures, pedicures and hairstyling, along with a sponsored open bar featuring VNC Cocktails and catered culinary delights from some of Hollywood's favorite restaurants and Chef Micah Killough. Buddha Bar-style grooves by DJ Josh LeCash and actress Taryn Manning as well as a live musical performance by American Idol finalist Blake Lewis are among the highlights of this one-of-a-kind event.
ABOUT GIVE BACK HOLLYWOOD
The Give Back Hollywood Foundation is a 501 (c)(3) public charity formed to assist members of the entertainment industry in "giving back" by raising funds & awareness for non-profits everywhere with an emphasis on children, health and disaster relief. Because each celebrity and each company we work with support or endorse different charities and causes, we aim to benefit the most charities and causes imaginable through our events, programs and celebrity matching efforts. For more information, please visit http://www.GiveBackHollywood.org.
ABOUT THE HOLLYWOOD REPORTER
A legendary publication that has serviced Hollywood for 80 years, The Hollywood Reporter underwent a radical makeover in November, with a dramatically redesigned website and a new glossy weekly magazine format. The Hollywood Reporter is the definitive interpretive voice of the entertainment industry. Smart, incisive stories and breaking news are delivered across a multimedia platform that also includes bi-monthly special reports, quarterly glossies, a daily news PDF, iPad app and events The Hollywood Reporter is read by the most powerful people in the entertainment industry and the most influential consumers who follow it--those who shape desire, set trends and ultimately drive culture--providing an unmatched level of access and influence The Hollywood Reporter is an asset of Prometheus Global Media (http://www.prometheusgm.com) a potent catalyst in influencing popular culture. Prometheus assets include Billboard and Adweek.
ABOUT THE SCREEN ACTORS GUILD
Founded in 1985, the SCREEN ACTORS GUILD FOUNDATION is an educational, humanitarian and philanthropic 501(c)(3) non-profit organization. Governed and funded independently of SAG, the SAG FOUNDATION offers substantive services to Guild members, free of charge, in its mission to assist, educate and inspire actors toward their fullest potential in career, life and community. For more information, please visit http://www.sagfoundation.org or call (323) 549-6708.
###