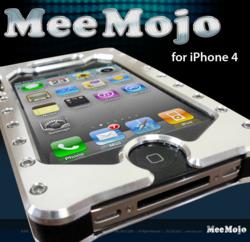 Mississauga Ontario (PRWEB) July 12, 2011
A combination of Aluminum, and an RF Neutral Polymer Isolator is being used to create Shock Proof billet Aluminum iPhone4 cases by Ultimate Truck Gear for its online company, http://www.MeeMojo.com.
In combination with aggressive styling and precise machining, the uniqueness of this metal case is the preservation of the iPhone4's functionality. "The problem with other metal cases is signal degradation. With our extensive history of custom manufacturing, I was confident that we could create a Shock Proof case that would preserve the iPhone4's functionality," said Petar Todorovic, the co-owner of Ultimate Truck Gear Ltd. "Once we hit on the process that we dubbed RF Neutral Polymer Isolator, we knew we could create the toughest iPhone4 cases available anywhere."
Todorovic has more than 30 years' of manufacturing experience, ranging from highly technical and precise aerospace work to cutting edge after-market automotive accessories. "From my involvement in the after-market accessories sector, I know a solid market exists for cutting edge premium products. I also know that consumers demand high functionality. Once we were satisfied with the results of our extensive testing program, our designers went to work to provide the slick and edgy looks." said Todorovic.
MeeMojo released two styles for its initial launch, Edgy and Slick. New metals, styles and colors are being developed and coming soon. Each case is assembled using polished stainless steel fasteners, assuring an exact fit for the iPhone4. Cases can be seen and purchased at http://www.MeeMojo.com.
###