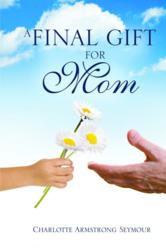 As Seymour's experiences unfold, she candidly shares her own life changing, and sometimes gut-wrenching, events.
Longwood, FL (PRWEB) July 22, 2011
Author Charlotte Armstrong Seymour expresses that her book, A Final Gift For Mom ($10.99, paperback, 9781613790380; $17.99, hardcover, 9781613790397), is about a spiritual journey: her own. She delves into a deeper level of thought to communicate that each of us enters this world stage, called life, dependent on others for our welfare. That is true in both the physical and the spiritual realm. As time goes on, life's ups and downs happen to all of us. The author accounts that no one gets to escape painful experiences in this world, as they come with the territory. A Final Gift For Mom relays the message that what really matters is how we cope, learn and move on. As Seymour's experiences unfold, she candidly shares her own life changing, and sometimes gut-wrenching, events.
Seymour thoughtfully states that it is easy for almost anyone to be happy when things are going their way. When things go horribly wrong, and yet the individual manages to survive and thrive, that is a powerful testimony. A Final Gift For Mom brilliantly presents her belief that this is why Christians are called the "salt of the earth." The author has observed that today's families, churches and governments have become dysfunctional. By God's grace, Seymour learned to study the Bible and apply biblical concepts to her life, enabling her to grow up spiritually, and to experience peace and contentment in spite of turbulent life events. Follow the author as she narrates that, thanks only to God's mercy, she has survived to become a better person. A Final Gift For Mom will stimulate readers and help those wondering if there is more to life than just existing.
Charlotte Armstrong Seymour is a woman deeply in love with the Word of God who is fond of telling stories. Her story telling began at an early age when she would develop stories to entertain her younger siblings on long car rides. Seymour graduated in 1970 from John Brown University in Siloam Springs, Arkansas with a B.S.S.E. Degree. Charlotte lives in Newark, Ohio with her daughter, Sharla, and her family.
Xulon Press, a division of Salem Communications, is the world's largest Christian publisher, with more than 8,000 titles published to date. A Final Gift For Mom is available online through xulonpress.com/bookstore, amazon.com and barnesandnoble.com.
###