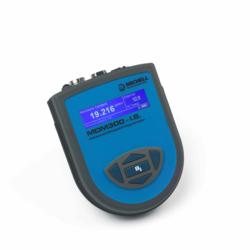 Rowley, MA (PRWEB) July 27, 2011
Michell Instruments introduces an intrinsically safe version of their portable MDM300 Series hygrometer. The new MDM300 I.S. is designed for natural gas quality monitoring, petrochemical processing, electric power generation operations and other hazardous area applications. By taking an innovative technical approach, continuous high-speed operation is now possible, increasing efficiency and reducing costs.
The MDM300 I.S. is capable of operating at full line pressures up to 4500 psig, offering fast and accurate moisture content measurements in the field. Dew points to -60°C can be reached in less than 15 minutes with an accuracy of better than ±2°C, utilizing Michell's well-proven ceramic sensor technology. Operating range is -100 to +20°C dew point temperature.
The MDM300 I.S. is completely self-contained including a fixed orifice sample system for low pressures. Higher pressures can be accommodated with a range of configurable external sampling systems. The rugged, ergonomic design of the MDM300 I.S. combines industrial durability with comfortable one- or two-handed operation. The intuitive menu and large, easy-to-press buttons enable the user to easily configure the instrument to display the required parameters even with gloved hands.
The real portability of the MDM300 I.S. allows for spot checks of moisture to be made at any point in the process – which means points of moisture ingress can be identified quickly and easily before damage is caused.
About Michell Instruments:
Michell Instruments is the international leader in the field of moisture, humidity and oxygen measurement solutions. With over 30 years experience, Michell designs and manufactures a wide range of transmitters, instruments and systems capable of measuring trace moisture, oxygen and hydrocarbon dew point in a vast range of applications and industries including compressed air, power generation, process, oil and gas, petrochemical, pharmaceutical and many more. http://www.michell.com/us
###