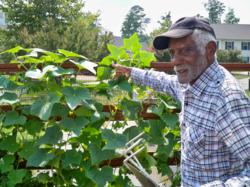 "If I have a space to dig, I will plant something," stated Mr. Burgess.
Suffolk, VA (PRWEB) August 08, 2011
Mr. Burgess grew up on a farm which accounts for his passion for gardening, something he has been doing all his life. Gardening can enrich the life of the senior gardener in many ways such as physically and spiritually. Seniors can continue to enjoy gardening with a little assistance and some creativity. Burgess has used his creativity in planting many varieties of fruits and vegetables in his small plot of land behind his assisted living suite at the retirement community he calls home.
Tomatoes, cucumbers, peppers, strawberries, cantaloupe and watermelon are just a few of the wonderful crops being grown this summer at the retirement community by Mr. Burgess. Aside from enjoying time spent gardening, he loves eating the produce he's grown but also shares with others in the senior living community. Burgess has a fence around his garden to help keep out the rabbits who also love summertime crops. One of his secrets to deterring the rabbits is spreading cayenne pepper on the ground, and so far he is winning the battle.
Gardening is good for the soul and can give a person a real sense of accomplishment, regardless of the size of the garden. It doesn't matter if you garden in a large plot in your yard, a small window box or a raised bed garden, you can still have that same feeling of accomplishing something wonderful. For many of us, gardening provides a welcome relief from the day to day challenges of life. Even those less physically able such as senior gardeners can still use techniques that will help, such as using a stool or chair, using a trellis, or a raised bed garden, using long handled tools for better grip and gardening early in the day. Summertime gardening can provide more than just fresh produce, it can provide a sense of accomplishment, a way to engage in healthy living and a favorite leisure outdoor activity.
Lake Prince Woods in the Suffolk/Hampton Roads area of Virginia offers retirement living with affordable pricing and outstanding value. Options include cottages, villas, apartments, and assisted living units with the availability of quality care, all within the 172 acre community. Here is a retirement community that's all about the future, not the past. Lake Prince Woods, a retirement community of United Church Homes and Services (UCHS) employs nearly 120 people and is home to 219 residents. The community was established in 2002, and is a not-for-profit organization.
United Church Homes and Service's corporate office and three continuing care retirement communities are conveniently located throughout the North Carolina and Virginia region. Each community has a different personality but the people who live on each campus share one desire: they want to enjoy life by being active and productive, appreciated and involved.
###