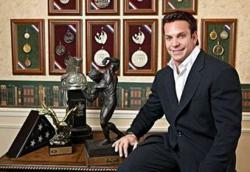 Lakewood, NJ (PRWEB) August 05, 2011
Mr. Universe/Mr. America Rich Gaspari, the CEO of Gaspari Nutrition (http://www.GaspariNutrition.com), isn't just flexing his muscles. He's also flexing his financial muscles to help those in need. Together with his wife Liz Gaspari, Senior Vice President and Director of Global Distribution for Gaspari Nutrition, they've been giving back in a BIG way by sending soldiers stationed in Afghanistan much-needed nutrients and pregnant and nursing mothers essential pre-natal vitamins to Afghanistan.
For the soldiers, they sent care packages filled with Myofusion, a muscle-builder, and Real Mass, to help soldiers gain weight, as well as t-shirts and shaker bottles.
"I've lifted weights for most of my life, but nothing compares to our brave servicemen and women who carry the weight of our country on their shoulders," said Rich Gaspari. "It's an honor to send these care packages to our champions overseas who are serving our country so bravely."
In knowing that heroes are both large and small, the Gasparis have also been donating products and a portion of their product sales to Gabrielle's Angels (http://www.gabriellesangels.org), the largest non-governmental source of grant support for blood-cancer research in the USA, and Vitamin Angels (http://www.vitaminangels.org), an organization that connects vital supplements and essential pre-natal vitamins with pregnant and nursing mothers in the USA, Afghanistan and worldwide.
Vitamin Angels reduces child mortality worldwide by connecting essential nutrients, especially Vitamin A, with infants and children under five. Essential nutrients enable young immune systems to fight infectious diseases, help children attain good health and give them the opportunity to lead meaningful and productive lives.
"About one third of childhood deaths are due to malnutrition and, especially as a wife and mother, this is a heartbreaking statistic," said Liz Gaspari who is also a mother of two children. "But there is hope. There is no greater joy than knowing that so many children can be saved just by making sure that they get the vitamins they need."
The Gasparis have also donated a portion of their product sales directly to Vitamin Angels to support a project with the Agency for Assistance and Development of Afghanistan (AADA) that is connecting 20,000 pregnant and lactating women with multivitamins. To date, almost 7,000,000 multivitamin capsules have been distributed to nearly 140 clinics throughout Afghanistan.
For more information on how to donate, visit http://www.bodybuilding.com/store/gabrielles-angel-foundation.html and http://www.vitaminangels.org/donate-funds.
For more information about Gaspari Nutrition, visit http://www.GaspariNutrition.com.
About Rich Gaspari
Follow on Twitter @RichGaspari
Rich Gaspari is one of the most-decorated champions in the sport of body building who, from the mid-80s through the 90s, has captured the titles of Mr. America (Now the NPC Nationals), Mr. Universe, Professional Mr. World, the first Arnold Schwarzenegger Classic Championship as well as a three-time runner up for "Mr. Olympia", the most-coveted title in professional bodybuilding. Today, he has a certification with the National Academy of Sports Medicine and was recently inducted into the Muscle Beach Hall of Fame for his lifetime of achievements. In 1999, he began to develop his own line of nutrition supplements under the name Gaspari Nutrition. Together with his wife Liz , the company has grown into a top-five supplement sports nutrition line with worldwide distribution in more than 80 countries.
About Liz Gaspari
Follow on Twitter @LizGaspari
Business powerhouse Liz Gaspari comes from a highly-successful family of Afghani entrepreneurs. Liz Gaspari's family (Her mother's maiden last name is Sadozai that means "kings") are the direct lineage of Ahmad Shah Abdali. Not only is she a direct descendent of The Royal Family, her grandfather owns Sarai Shahzada market in Kabul, Afghanistan which is where millions of dollars, rather than the national currency, change hands daily. Today, she is the Senior Vice President and Director of Global Distribution for Gaspari Nutrition Inc. (http://www.GaspariNutrition.com).
###