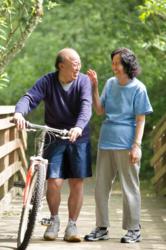 The doctor of the future will no longer treat the human frame with drugs, but rather will cure and prevent disease with nutrition.
(PRWEB) August 06, 2011
Nutri-Med Logic Corp: Benefits of proper nutrition such as R-Alpha Lipoic and Omega-3 in cognitive decline and Alzhiemer's.
Until few years ago, the role of Amyloid Protein in neural cell (brain cells) was not fully understood. However, it was known that this protein played a fundamental role in progression of cognitive decline and Alzheimer.
A specific form of this protein Amyloid Beta 40 and 42 (Abeta 40 and Abeta-42) produces a plaque around the brain cells and does not permit entry of nutrients and thus causes the demise of the cell (Apoptosis, which is another word for cell death).
As the number of the brain cells are reduced, obviously the memory will be affected.
It has been proposed that certain genes, which are supposed to be inactive, during transcription (making instruction for proteins), become active and produce Abeta 40-42. Extensive research is being done to find medication to silence these genes (make them inactive).
While nutrients cannot and should not be a substitute for medications, but it is not a secret that proper nutrients improve the overall health and thus confer a valuable benefit even with the issue at hand.
Rexdox imbalance (lack of homeostasis) has been proposed as contributing factor in cell death and, thus, cognitive decline and Alzheimer's.
Few years back a molecule in red wine (grapes) called resveratrol was researched and found to prolong cellular longevity. Resveratrol was found to activate certain genes called SIR-2 and SIR-3, which produce proteins (Sirtuin) that protects cells from premature death.
First we will discuss the benefits of a diet, rich in, Omega-3:
Omega-3 has two components, which are called, in short, DHA and EPA. The DHA component of Omega-3 is exclusive to the brain and nervous system. The body does not have the enzymes (the ability) to produce. It must be supplied through diet.
The DHA of Omega-3 produces proteins (Docosanoids), which confer protective role to the brain and nervous system. A diet, rich in, DHA is highly important for the brain and nervous system. However, as discussed preciously, Omega-3 has two components, EPA and DHA.
Most Omega-3 products, concentrated or regular, favor EPA over DHA and according to the studies done by the US Department of Agriculture, high intake of EPA would pose a risk of anti- coagulation. Accordingly, to attain a diet rich in DHA of Omega-3, one should give proper attention to the proportion of the two components. The best case scenario would be a balance formula Omega-3, which would have equal EPA and DHA.
Another important nutrient in cell survival is R-Alpha Lipoic.
R-Alpha Lipoic has been used in Germany, intravenously, for the treatment of Diabetic Polyneuropthy. It was even the attention focus of the FDA, as the agency granted a special license to Dr. Berkson, an Associate in National Institutes of Health for intravenous application of this nutrient.
Research suggests that R-Alpha Lipoic would attain the same results as the resveratrol, as it related to the cellular longevity.
R-Alpha Lipoic is made by the human body but its levels drop by age. R-Alpha Lipoic is found in variety of foods but its levels do not increase through conventional food and studies have shown, to increase its levels, its dietary supplementation is the solution.
While R-Alpha Lipoic, by nature, is anti-oxidant but it can be very beneficial in redox imbalnce (Homeostasis) and, without a doubt, a diet rich in this nutrient would be very beneficial in cognitive decline or Alzheimer's.
Omega-3 is an anti-inflammatory food and R-Alpha Lipoic and an anti-oxidant food. A diet rich in Omega-3 and R-Alpha Lipoic should be incorporated in the daily diets of those suffering from Alzheimer's and/or cognitive decline.
Nutri-Med Logic Corp is a producer of dietary supplements that would be Essential in countering stress, inflammation, redox imbalance and hypomethylation "The Four Factors"; all of which affect the homeostasis of the body.
Nutri-Med Logic's products are Formulated Based on Nutritional Logic, made from the highest quality raw materials that are manufactured in pharmaceutical facilities, encapsulated in pharmaceutical facilities and, also, packaged in pharmaceutical facilities.
# # #