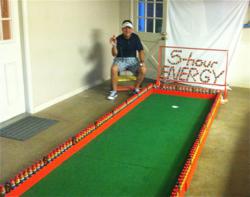 Farmington Hills, MI (PRWEB) August 17, 2011
The 5-hour ENERGY® "Empty Bottle Brainchild Contest" has concluded and we are excited to announce the winners! After careful consideration of each entry, the judges chose the three most innovative creations. Our grand prize winner walked away with a whopping one-year supply (365 bottles) of 5-hour ENERGY® shots, and our second and third place winners bagged an impressive stash too.
Matt Bellner came in first with his 5-hour ENERGY® putting green. Matt had also won last year's "Where's your 5-hour ENERGY® Shot?" contest in December with his brilliant 5-hour ENERGY® Christmas tree. This time, he blew us away by constructing a putting green lined with 5-hour ENERGY®, supported by a "5-hour ENERGY®" sign made with 5-hour ENERGY® bottles. And if that wasn't enough, both the putting green and his glow-in-the-dark golf ball also lit up the darkness. Don't take our word for it, check out the video for yourself.
Candace Donato took second place and won a six-month supply (180 bottles) of 5-hour ENERGY® by creating stylish accessories out of her empty 5-hour ENERGY® bottles. Candace sent us a picture proudly wearing her 5-hour ENERGY® accessories. She models 5-hour ENERGY® earrings, a necklace, ring, and bracelet.
Finally, we were inspired when Steven Arant told us how his entry into the "Empty Bottle Brainchild" contest came to fruition. Steven took his cubicle from drab to fab by creating wallpaper out of empty 5-hour ENERGY® bottles. Steven told us how his remodeling increased his productivity at work and motivated his coworkers to boost their efficiency with 5-hour ENERGY®. He sent us a testament to his experiment:
"My wallpaper, from drab to energized. After realizing that my drab gray/tan cube walls were just slowing me down from the boredom I energized it with 5-hour Energy. Let me tell you I am never feeling bored. The wallpaper brings out my desire to do more. In fact my wall has inspired others to convert to 5-hour ENERGY and now they are advocates, too. Thank you 5-Hour ENERGY for being there. P.S. I like 5-hour ENERGY better than coffee any day."
For his efforts, Steven received a three-month supply (90 bottles) of 5-hour ENERGY®. Congrats to all of our winners!
To keep in touch with 5-hour ENERGY® and to know of the next 5-hour ENERGY® contest kick-off, reach out to us on any of our online platforms:
The 5-Hour ENERGY® Facebook Page
About 5-hour ENERGY®
5-hour ENERGY® is a liquid energy shot that provides adults with hours of energy and alertness. It contains a blend of B-vitamins and amino acids, zero sugar and four calories, packed into less than 2 ounces. It is available at retail outlets in the United States and Canada as well as throughout the U.K., Ireland, the Netherlands, and Spain.
###