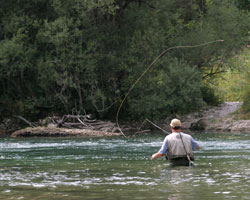 Cabin guests can now plan a fly fishing adventure along with their vacation cabin rental.
Waynesboro, VA (PRWEB) August 26, 2011
Guests of Cabin Creekwood can now book a Virginia fly fishing excursion at the same time they book a cabin rental in Virginia.
South River Fly Shop was established in February of 2011 by Tommy Lawhorne and Kevin Little. This opening coincided with the designation of a stretch of South River as a Special Regulation Area, designed to produce an abundance of trophy sized brown trout. As Kevin says, "We've talked about the need for an independent professional fly shop in this area for 9 years. There are so many types of fishing opportunities close by. When the South River opened and the revitalization of downtown Waynesboro began, the timing just seemed right."
South River Fly Shop is a full service fly fishing store, with a recently enlarged area to accommodate an even bigger inventory. Patrons can receive fly-tying instruction, fly-casting instruction, fishing updates, and recommendations. Their familiarity with local waters, as well as their expertise on current conditions, enables them to point patrons in the right direction. They can help select the right waters to fish, as well as recommend the appropriate types of rods and kinds of flies for the current conditions.
Kevin and Tommy offer an outstanding guide service as well. Kevin has been guiding for over 20 years in West Virginia, Montana, Idaho, Florida, Virginia, and Tennessee. Tommy is a local who started trout fishing at the tender age of 4, and began guiding and teaching in 1990. Both Kevin and Tommy are extremely familiar with the South River in Waynesboro, as well as Jackson River and Mossy Creek. They offer guided fishing trips to all three of these area, in addition to float trips on the Shenandoah River and Maury River. Fishing trips offered are ½ day, or full day with a lunch provided.
Fly fishing packages can now be booked at Cabin Creekwood online or by calling toll free to 888-942-2246. Packages include lodging in one of their rental cabins, plus a half-day guided fishing trip for one or two people on the South River. Equipment is available if needed.
Cabin Creekwood has been providing a truly restful getaway in the Blue Ridge Mountains near Waynesboro since 1981. Owners Stan and Debbie Horst work hard to provide information and assistance on things to see and do in the area, and are delighted to offer this trout-fishing experience for their guests.
Find out more about Cabin Creekwood and all they offer at their website, http://www.cabincreekwood.com.
###