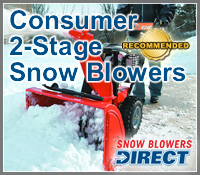 These 2-stage snow blowers are made for heavy snows, powering through deep drifts with ease
Bolingbrook, IL (PRWEB) September 19, 2011
Today SnowBlowersDirect.com, a leading online snow thrower superstore, announced its recommendations for two-stage consumer grade snow throwers.
"These 2-stage snow blowers are made for heavy snows, powering through deep drifts with ease," said Kriss Schrader, resident product expert at Snow Blowers Direct.
According to Schrader, most retailers are loyal to whatever is on their shelves.
However, SnowBlowersDirect.com isn't your ordinary retailer. The online superstore specializes exclusively in snow blowers and carries more than 90 models of snow throwers, as well as a full array of accessories representing many of the leading brands in the industry.
The online superstore combined sales history, customer reviews and personal insight to generate their final recommendations. Three models of two-stage consumer snow throwers were chosen to receive the prestigious "Recommended" status.
Top Consumer Two-Stage Snow Blowers
Good: McCulloch MC624ES (24") 208cc Two-Stage Snow Blower - 961 92 00-40
Better: Cub Cadet (26") 277cc Two Stage Snow Blower - 526SWE
Best: Husqvarna 12527HV (27") 291cc Two Stage Snow Blower - 961 93 00-71
According to Schrader, these two-stage snow throwers are versatile enough to clear paved and unpaved surfaces, making them ideal for any homeowner.
By providing the recommendations and reviews, SnowBlowersDirect.com hopes to arm shoppers with enough ammunition to pick the perfect consumer grade two stage snow thrower for their needs.
Power Equipment Direct operates nine niche online superstores. In addition to SnowBlowersDirect.com, the Bolingbrook, IL-based company operates AirCompressorsDirect.com, ElectricGeneratorsDirect.com, PressureWashersDirect.com, MowersDirect.com, WaterPumpsDirect.com, SumpPumpsDirect.com, ChainSawsDirect.com and LogSplittersDirect.com.
###