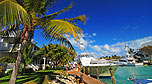 "The Florida Keys have been on the top of our customers wish list as a location for a live CME conference and we are very pleased to offer this location in November 2012"
-- Barbara Lyons
VP Marketing, Continuing Education Company
West Hempstead, NY (PRWEB) January 19, 2012
Continuing Education Company, a leading provider of quality live CME conferences for doctors of primary care, family, internal, emergency and rural medicine, is pleased to announce a brand new location for its fall CME conference. "The Florida Keys have been on the top of our customer's wish list as a location for a CME conference and we are very pleased to offer a fall CME conference at the beautiful Hawks Cay Island Resort in Duck Key this November 2012." says Barbara Lyons, VP of Marketing for Live CME at the Continuing Education Company Inc.
Continuing Education Company has been organizing its' Primary Care CME Conference Series for the past 20 years. The Essentials in Primary Care Conference is designed to update primary care clinicians in rapidly changing therapeutic areas. The emphasis is on practical and useful information for clinical practice. As a result of this conference, participants will be able to discuss the clinical presentation of the common disorders seen in the primary care, identify the role of the family physician in the management of these common problems, utilize current advances in the diagnosis and treatment of these common problems while using, whenever possible, an evidence-based approach as well as interact and question nationally acclaimed speakers on a variety of common clinical scenarios from medical practice
The beautiful Hawks Cay Island Resort is on Duck Key in the Florida Keys. Located midway down the Florida Keys on the tropical 60-acre island of Duck Key offers some of the world's best fishing; exciting water sports; dolphin interaction programs; a saltwater lagoon; five gorgeous swimming pools; and a variety of luxurious accommodations, including guest rooms, suites and villas. A member of Preferred Hotels & Resorts and an AAA Four-Diamond Award-winning resort, Hawks Cay Resort, completed a $35 million renovation in 2008. The revamped resort now boasts a tropical elegant décor that captures the true essence of the Florida Keys.
Continuing Education Company, Inc. (CEC) is an independent, non-profit, 501 (c)(3) continuing medical education organization. We have been developing and presenting continuing medical education programs for over 19 years. Our mission is to develop and provide educational opportunities to improve the skills and knowledge of medical and healthcare professionals. We accomplish this mission by offering American Academy of Family Physicians (AAFP) accredited CME lectures, symposia, and conferences.
Educational activities are developed with the guidance of Continuing Education Company's Curriculum Advisory Committee. The committee, lead by our on-staff Medical Director is comprised of physicians, pharmacists, educators who have extensive clinical and CME experience.
###