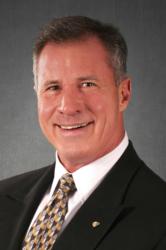 Miami, Florida (PRWEB) January 17, 2012
The Realtors Commercial Alliance of MIAMI (RCA MIAMI) has elected John Dohm, SIOR, CCIM, CFP, Infinity Commercial Real Estate, its 2012 President. He and the entire Board of Directors will be installed on February 3 at the Annual Installation Luncheon. The RCA MIAMI Board is dedicated to leadership in the South Florida commercial industry, the real estate profession, and the communities they serve. RCA MIAMI Leaders impact key policy decisions and important issues affecting the commercial industry, analyze information, and are actively and visibly involved in events and programming.
Dohm, a licensed real estate broker for more than 25 years, is one of fewer than 700 individuals in the world to hold both the SIOR (Society of Industrial and Office Realtors) and CCIM (Certified Commercial Institute member) designations and the only one to have also been awarded the CFP (Certified Financial Planner) certification in addition to all major securities licenses.
A past SIOR president, Dohm is the outgoing SIOR national director for South USA. He currently serves on the SIOR Foundation Board, is co-chair of the global organization's Membership Standards Committee, and is a member of the National Board of Directors.
John is past president of the CCIM Broward Chapter, on the board of the Miami Chapter and served for several years on the board of the state CCIM organization. He founded the Commercial Industrial Real Estate Brokers Association and is a two-term past president.
He is a National Association of REALTORS and Florida REALTORS director.
A resident of South Florida since the early 1950s, John grew up in Miami and graduated from the University of Miami. Prior to his 30-year career in real estate, John was a symphony musician and then a securities and commodities specialist at the Chicago Board of Trade.
Michael K. Silver, SIOR, CBRE, will serve as President-Elect of RCA MIAMI.
Comprising the remainder of the RCA MIAMI Board of Governors are 2011 Commercial President Betty B. Gonzalez, CCIM, The Keyes Company, Inc.; Alexander Bernaldo, PA, SIOR, Americas Industrial Realty Corp.; Thomas E. Byrne, Esslinger-Wooten-Maxwell, Inc.; Tony Cho, GRI, Metro 1 Properties; Anthony DeRosa, WestVest Associates, Inc.; Rey Figueroa, Jr., P.A., CCIM, The Keyes Company, Inc.; Pedro J. Garcia, SIOR, Binswanger-Gateway Partnership; Jose I. Juncadella, SIOR, Fairchild Partners, Inc.; Ronald Kohn, CCIM, Kohn Commercial Real Estate, Inc; Ken Morris, SIOR, Morris Southeast Group/Corfac International; Edward J. Redlich, SIOR, CCIM, ComReal Miami, Inc.; José Maria Serrano, New Miami Realty Corp.; Brian Sharpe, Sharpe Properties; Scott K. Sime, SIME Realty Corp.; Barbara Tria, Kerdyk Real Estate; David Wigoda, Jones Lang Lasalle Bk. Inc.; Danny Zelonker, SIOR, CCIM, E-Pro, TRC and Jack Lowell, SIOR, CCIM, Flagler Development Group.
Paul Cauchi serves as the Commercial Senior Vice President for the organization. Teresa King Kinney, CAE, RCE, CIPS serves as the CEO for the organization.
# # #