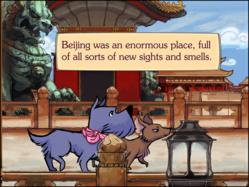 Clover represents a complete reimagining of what it means to be a children's book in the digital age.
Denver, CO (PRWEB) October 12, 2012
Fentress Architects and renowned children's app developer Soma Creates are thrilled to announce the launch of their unlikely collaboration, Clover. An interactive children's book designed exclusively for Apple's iPad, Clover is the touching story of an adorable and curious dog whose misadventures leave her stranded on the other side of the world. To find her way home again, she teams up with a friendly, street-wise rat and travels from Paris to Moscow to Beijing. Along the way, Clover discovers some of the world's most iconic works of architecture, while learning valuable lessons about the nature of friendship and home.
Clover represents a complete re-imagining of what it means to be a children's book in the digital age. Dispensing with static pictures and even the idea of distinct pages, Clover allows children to control of the movement of the characters and the progression of the story with simple finger swipes. Rich animations and lushly illustrated moving backgrounds engage children on a level not possible with traditional paper books.
The release of the Clover app is a creative departure for Fentress Architects, which is known worldwide for its innovative designs of airports, museums, mixed use towers, and other building types. Yet it is very much in line with the firm's philosophy, says firm Founder and Design Principal, Curtis Fentress: "We're devoted to sharing great design with the world. We see this book as a way of introducing children not only to architecture, but to the wider world that's out there."
Fentress Architects, which is currently completing the $6 billion modernization of the International Terminal at LAX, decided a digital storybook would reach children in a way no other medium could. "This isn't a textbook about architecture," Curtis Fentress says. "This is a way for children to relate to architecture on a personal level."
From the Eiffel Tower in Paris, to St. Basil's cathedral in Moscow, to the Forbidden City in Beijing, the architecture featured in Clover is among the world's most memorable. "We purposely selected works that most children would find fascinating," says Josh Heidebrecht, Clover co-creator and Soma Creates founder. "Each building is from a different culture and shows a different perspective on the world." Calgary-based Heidebrecht consulted extensively with child psychologists during the creation of several of his highly-successful children's apps for such characters as Strawberry Shortcake and Olivia. What he learned from those psychologists influenced every aspect of Clover, from the style of animation to the speed with which children scroll through the app.
Curtis Fentress was inspired to create Clover after his real-life Scottish Terrier by the same name leapt into Fentress' suitcase while the architect was packing for a business trip. Fentress Architects teamed up with Soma Creates shortly afterward to create the digital storybook. "Who knows what's going to inspire some child out there to go into architecture," Fentress says. "Maybe that inspiration will come from a great building, or maybe from the story of a dog trying to find her way home."
Clover is available exclusively for the Apple iPad for $2.99 through iTunes. However, as a special introduction, Clover will be available free-of-charge this Saturday, October 13th .
Please visit: [http://itunes.apple.com/us/app/clover/id461726062
Fentress Architects is a global design firm that passionately pursues the creation of sustainable and iconic architecture. Together with their clients, Fentress creates inspired design to improve the human environment. Founded by Curtis Fentress in 1980, the firm has designed US$27 billion in architectural projects worldwide, visited by over 300 million people each year. Fentress is a dynamic learning organization, driven to grow its ability to design, innovate and exceed client expectations. The firm has been honored with more than 400 distinctions for design excellence and innovation, and in 2010, Curtis Fentress was recognized by the American Institute of Architects with the most prestigious award for public architecture, the Thomas Jefferson Award. Fentress has studios in Denver, Colorado; Los Angeles, California; San Jose, California; Washington, D.C.; and London, U.K.
http://www.fentressarchitects.com
Soma Creates, Inc. is a Canadian interactive toy developer specializing in iPad and iPhone applications for toddlers and young children. They have developed several very successful apps including Strawberry Shortcake and Olivia Paints.
Please contact Scott Bergstrom at 303.282.6194 or bergstrom(at)fentressarchitects(dot)com for more information or images.