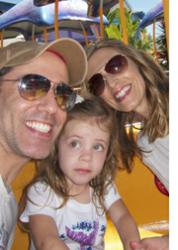 Being a part of a successful show in Las Vegas has been a great blessing. But nothing compares to the real light of my life, my daughter, Emma
Las Vegas, NV (PRWEB) October 12, 2012
"Being a part of a successful show in Las Vegas has been a great blessing. But nothing compares to the real light of my life, my daughter, Emma. When she was born my wife, Melody, and I found a couple of spots on her chest and leg, which were initially dismissed as 'birth marks'. When more started appearing, our pediatrician suggested we see a neurologist, as these spots might be something called café-au-lait spots, a common symptom of the neurological disorder, neurofibromatosis. No amount of success I might ever experience compares to what my wife and I want to give to our little Emma, which is a normal childhood without so many terrifying possibilities," says Leibow.
The couple, who were overwhelmed reading about the most extreme cases online, soon found out that Neurofibromatosis or NF is one of the most common genetic disorders in the United States. It affects more people than Muscular Dystrophy, Tay-Sachs and Huntington's disease combined and is estimated to occur in 1 of 2,500 births.
NF is a genetic disorder of the nervous system which causes tumors to form on the nerves anywhere in the body at any time. This progressive disorder affects all races, all ethnic groups and both sexes equally. It also can cause learning disabilities, seizures, cancer, bone deformities, hearing loss, blindness, ADD, high blood pressure and much more. NF research benefits anyone with these problems whether they have NF or not. In fact, NF research has led scientists to new discoveries in NF as well as many forms of cancer, learning disabilities and more. NF has three genetically distinct forms: NF-1, NF-2 and Schwannomatosis.
Leibow says that through this research he and his wife soon connected with the Executive Director of the Neurofibromatosis Network, Kim Bischoff, and others. The Neurofibromatosis Network has taken the lead in advocating for, and securing, over $200 million in federally funded NF Research.
"Last year's Las Vegas benefit raised an amazing $14,500. With the funding the NF Network was able to purchase software to help us with our advocacy work to obtain federal dollars for much needed NF research work. This spring we doubled the number of Congressional signatures from last year in support of NF Research as a result of the new software purchase. Currently NF Research through the Congressionally Directed Medical Research Program (CDMRP) has been 'marked up' by the House Appropriation Committee for $15 Million. We will not know what the exact funding for NF Research through the CDMRP program will be until after the election," says Bischoff.
Meanwhile, Leibow says he and his wife have no plans to slow down their drive to raise awareness and find a cure for their daughter, Emma, and so many more living with NF.
"In the last year we have found a handful of small tumors on Emma. Fortunately, they don't seem to be slowing her down, but it reinforces why we do so much to raise awareness of NF. In an effort to help with advocacy and fundraising efforts, we have continued to produce events in Las Vegas under our organization NF Hope. In the last year, NF Hope has raised over $25,000 for the NF Network. It is our dream to see NF Hope become a national organization producing events all over the US. Until then, we will do everything we can with the hope that Emma and the more than 100,000 people living with NF may learn someday that researchers have finally found a cure for neurofibromatosis."
Sadly, there is so much research that needs funding to find a cure for NF, as the fact remains that NF is much more widespread and much less known than many other chronic illnesses. For these reasons, Leibow and his wife have helped to gather well-known celebrities and entertainers for the 2nd annual NF Hope Concert, set for Sunday, October 21, 2012 at 1:00 p.m. at Harrah's Las Vegas Main Showroom. The Leibows says this event is not only for Emma but for so many born with NF every year and for the thousands currently living with NF.
Performers set to appear include but are not limited to:
•Delious Kennedy (from the Grammy Award Winning Band All-4-One)
•Clint Holmes
•Gordie Brown
•Chris Phillips (from Zowie Bowie)
•Cast members from Jersey Boys
•Kristen Hertzenberg (star of Phantom: The Las Vegas Spectacular)
•Anya Garnis and Dmitry Chaplin from ABC's Dancing With The Stars
•Nevada Ballet Theater
•Frankie Moreno/Melody Sweets
"NF tumors are caused by the tumor suppressor protein, known as RAS, a cellular pathway found in every human. In those with NF the RAS pathway does not know when to turn off. Considering the large number of rare diseases and genetic disorders doctors learn in school, NF is just one in a multitude of medical diagnoses they review. As NF is not as well-known as many other genetic disorders, it is still not uncommon for a pediatrician to fail to diagnose NF in a child. We at the NF Network simply cannot thank enough the Leibows and the celebrities who have volunteered their time and talent to entertain us on October 21st in Las Vegas," says Bischoff.
As for the Leibows, their daily reminder of why they work so tirelessly to help educate others about NF comes by way of their beautiful little girl, Emma. "Once a year, Emma has to get an MRI, which requires sedation, a scary thing for a little girl who may also have Malignant Hyperthermia, a severe allergy to most anesthetics. Once a year we drive Emma to Children's Hospital of LA to see her neurologist, Dr. Tena Rosser; once a year we take Emma to the ophthalmologist; and every day, we pray that Emma will live a life free of the more extreme symptoms we first read about online," says Leibow.
NF Hope Concert
Date: Sunday, October 21, 2012
Time: 1:00 pm
Location: Harrah's Las Vegas Main Showroom
Hotel Address: 3475 South Las Vegas Boulevard, Las Vegas NV 89109
Tickets from $25; $60 for front orchestra section. VIP Packages available for $75, which includes a signed poster.
Tickets can be purchased locally by calling (702) 369-5111, through Harrah's website at http://HarrahsLasVegas.com or through Ticketmaster online at http://www.ticketmaster.com/Nf-Hope-Concert-tickets/artist/1782197?SREF=TWArtist
Silent Auction Includes the following and can be accessed on the web at http://nfhope.auction-bid.org/:
•One Night Stay at Harrah's Las Vegas
•Jersey Boys Ticket Package including 2 tickets and items from the Jersey Store
•2 Tickets to the Incomparable Celine Dion at Caesar's Palace
•2 Tickets to the Legendary Performer Elton John at Caesar's Palace
•Tickets to the Hysterical Comedy Hypnotist Marc Savard at the V Theatre in Planet Hollywood
•Original Artwork by Jimmy Mulligan, Former Disney Artist
•Original Artwork by Las Vegas Contemporary Artist, Erica Reynolds
•Framed Jersey Boys Poster Signed by the Cast of Jersey Boys
•Framed Copy Sherry Music, Used in the Las Vegas Production of Jersey Boys, Signed by the Cast
•Chef Mario Batali Cookbook and Signed Serving Tray
•Phantom: The Las Vegas Spectacular Signed Souvenir Program and Show CD
•Lion King Souvenir Book and Show CD
•Wine Tasting and Whiskey Flight at Double Helix Wine and Whiskey Lounge
•2 Lunch Certificates for two at Eiffel Tower Restaurant Paris Las Vegas
•Dinner Certificate to Gordon Ramsay's Steak at Paris Las Vegas (valued at $300)
•Dinner for two at the Beautiful Mon Ami Gabi at Paris Las Vegas
•Dinner at the hip Sugar Factory, plus a basket of sweets from their shop
•2 $100 Certificates to the Award Winning Annie's Gourmet Italian in Henderson, NV
•Coffee Bean & Tea Leaf Caffitaly System Espresso Machine
•Canyon Ranch Spa Package (valued at over $500!)
•Ritual Salon and Spa Package (Wednesday Spa Party for Five Guests,
•Includes 4 Mini Spa Services plus hors d'oeuvres)
•Blow Dry Session and Make Over at Platinum Entourage (recently featured in In Style Magazine)
•Performance Health Center Package (Includes Pilates and Chiropractic Sessions, Plus a Gift Basket)
•10 Classes at Barre Las Vegas
•Music Together Eleven Week Session (Award Winning Family Music Program)
•Portrait Photo Session with Nikka Wahl and Chris Fore (Cast Members from Las Vegas Production of Jersey Boys)