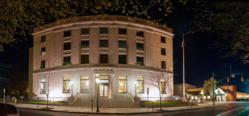 "Some business owners are reporting their revenue is up by nearly 50 percent." - Linda Sterling, director of the Lewisburg Downtown Partnership.
Lewisburg, PA (PRWEB) October 14, 2012
The Pennsylvania Downtown Center (PDC) has awarded Bucknell University a 2012 Townie Award for "substantially improving the economic vitality" of downtown Lewisburg.
The Townie Awards are designed to recognize the Commonwealth's core communities and individuals for projects, programs and events that exemplify the goals of PDC's community revitalization mission. Bucknell University was honored with the 2012 Asset Enhancement Award for its Lewisburg Core Community Initiative.
Over the past two years, with the support of state and federal grants along with private funding, Bucknell has invested $26 million in several projects in downtown Lewisburg, including:

•Acquiring and revitalizing the United States Post Office and Court House building, commonly referred to as the Federal Building. After building a new sorting facility for the U.S. Postal Service, Bucknell took possession of the downtown facility and, after a multi-million dollar restoration project, relocated more than 60 employees to the upper floors of the nearly vacant Market Street building. The post office continues to maintain its retail space on the ground floor.
Combined, these projects relocated more than 130 full- and part-time employees to downtown Lewisburg and have increased foot traffic to the collection of shops, restaurants and other retail spaces in the downtown area.
"Bucknell and Lewisburg are great neighbors, and these projects have only helped to strengthen our relationship," said Linda Sterling, director of the Lewisburg Downtown Partnership. "We're already seeing the benefits of these economic revitalization efforts. They're helping to attract new businesses to the area, we're seeing current businesses expanding, and some business owners are reporting their revenue is up by nearly 50 percent. It's wonderful."