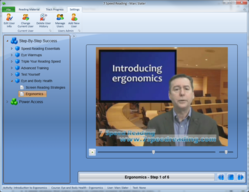 ...because there's no cost, the public still believes e-books are worth the wait.
New York City, NY (PRWEB) October 21, 2012
In libraries all across America, the demand for e-books is on the rise. Even with an average wait of approximately 16 days for best sellers, patrons are more excited than ever about the opportunity to get a copy faster than they would the printed version. And because there's no cost, the public still believes e-books are worth the wait.
Marc Slater of 7 Speed Reading comments, "It is exciting to see such a demand for e-books. It shows people have an interest in reading. This can only result in an increase in literacy rates."
In fact, United States libraries have found it difficult to keep up with the interest in e-books. While the books are only available for 14 days after receipt, people remain willing to accept that time limit. Hardcover books can be checked out for about six weeks; however, they can take upwards of 10 weeks just to receive. By that time, patrons could have read several e-books.
"Quick turnaround on e-books means that learning to speed read is going to become very important," adds Mr. Slater. "People can get the titles they want quickly, but they are going to have to read them quickly too."
Libraries have been offering e-books for several years now; however, it hasn't been until recently that they have gained in popularity. People want what they want now. And, while budgets are being cut across all libraries in the United States, libraries are making the cuts in print books instead of e-books. They are hoping that availability of e-book titles will increase in answer to the high demand. "This is actually a good problem to have," Mr. Slater remarks. "It shows an interest in reading and that is a good thing."
To find out more and get on the road to better speed reading today, please visit: http://www.7speedreading.com
**********
About 7 Speed Reading™
7 Speed Reading is the only modern speed reading software that uses the latest technology to produce superior results.
The software provides its users with a new way to master speed reading that guarantees three times the reading speed along with improved memory and comprehension.
The software is poised as the most comprehensive speed reading system anywhere. It contains seven learning strategies, fifteen software activities, video training, advanced tracking capabilities and many more exciting features.