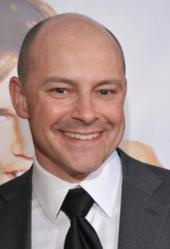 I lost my place and repeated myself once. But it just jacked me into [performing the wedding] and I think added to the spirit rather than detracted from it.
Seattle, WA (PRWEB) October 16, 2012
The Universal Life Church Monastery reports that former Daily Show correspondent Rob Corddry performed a wedding ceremony for two close friends on Oct. 6 in New York City. The wedding, which took place at a speakeasy-themed restaurant in Manhattan's Lower East Side, was his first since becoming a legally-ordained minister online with the ULC Monastery.
"Reverend" Corddry, the writer, director and star of Adult Swim's Childrens Hospital, enjoyed being a wedding officiant despite having no prior experience acting as one. He also appreciated the moments that occurred as a result of the non-traditional wedding style.
"I didn't practice my bit because I didn't want it to feel polished or rehearsed," Corddry said. "I wanted to be in the moment. The heavy mic I was juggling with my binder was a bit of a trick and I lost my place and repeated myself once. But it just jacked me into the present even more and I think added to the spirit rather than detracted [from it]."
The theme of the wedding matched the personalities of the couple, Jesse and Raina, whom Corddry describes as "gracious and generous people" who are "…constant reminders that there is a world outside of [ourselves]." He noted that the couple's vows were a highlight of the ceremony; Jesse's inspired tears and the couple's final vow was a pledge to become ghost lovers after death in order to scare people.
Corddry's favorite part of solemnizing his friends' marriage were the antics of his two young daughters, ages four and six, who served as flower girls. The two girls chatted and laughed as they sprawled on the restaurant floor during the ceremony. At one point, Corddry's eldest daughter leaned to another, unrelated flower girl, pointed at her father and said, "That's my dad."
"It was a special moment for me," Corddry said about his daughter's antics.
Despite this being his first wedding, Corddry has used his Universal Life Church ordination many times before.
"I was ordained the whole time I was on The Daily Show because the ULC parking pass worked like a charm if I parked anywhere near a church," Corddry said in a recent interview. "I saved hundreds if not thousands of dollars in parking."
The Universal Life Church Monastery is a non-denominational church headquartered in Seattle, WA. Anyone can legally become a minister by visiting their website and submitting their information. Its website also features a catalog for minister supplies and a number of articles about how to perform weddings and other religious ceremonies. The ULC Monastery claims to have ordained over 20 million ministers since its beginning in 1977.