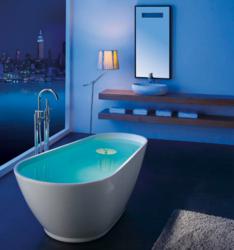 acrylic bathtubs are lightweight, durable, easily maintained, non-fading and available in a variety of shapes and colors
Allen, TX (PRWEB) October 21, 2012
TheInteriorGallery.com recently added over 20 new acrylic bathtub designs to their massive range of modern bathtubs. The company continues its practice of slashing prices with its latest effort aimed at budget conscience first-time home buyers.
The company, which main distribution center is located in Carrollton, Texas, assures customers that their designs are on par with the latest home bathroom design trends. The company also states that every design goes through a well thought out creative process which seamlessly incorporates form and function.
The Interior Gallery's full range of home decor and furnishing products are displayed on its online store, which uses the InstanteStore eCommerce solution, for convenient viewing. The site recently went through a major makeover to improve user experience. The company also boasts a new $3 million showroom in Allen, Texas for those who would like to view their products firsthand.
The company, which was featured on the DIY Network and with TLC's Moving Up show, has maintained its tradition of slashing prices of its products by up to almost 50%. It is able to achieve this feat by directly importing from factories and side-stepping the middlemen. The significant cost savings gained from this process is then passed on to customers.
With prices starting from just over $1000 for a brand new freestanding modern acrylic bathtub, The Interior Gallery hopes to offer new home owners a better variety of quality contemporary designs.
The company reveals that acrylic bathtubs are seen as attractive prospects to new home owners because they are much cheaper when compared to solid surface bathtubs, a range which is also offered by The Interior Gallery.
In addition, acrylic bathtubs are lightweight, durable, easily maintained, non-fading and are available in a variety of shapes and colors. These features make it a very attractive option for interior designers as well.
To maintain a high degree of customer satisfaction, every single item is checked and repackaged with additional industrial strength packaging materials before it is allowed to leave the warehouse. It is then shipped directly to customers.
For more information about The Interior Gallery and its products, please visit http://www.TheInteriorGallery.com.