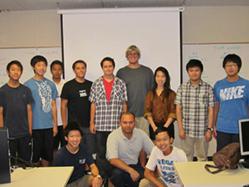 Los Alamitos, CA (PRWEB) October 20, 2012
North Orange County Regional Occupational Program (ROP) pre-engineering high school students will spend the year inventing and manufacturing an ozone water purification system that will provide clean water to communities lacking those resources. Martin Valenzuela, ROP Principles of Engineering instructor at Los Alamitos High School and his student team were awarded a Lemelson-Massachusetts Institute of Technology (MIT) InvenTeam grant in the amount of $8,172 to create and develop a prototype of the system. The ROP program at Los Alamitos High School is one of 16 programs nationwide to be selected as an InvenTeam this year. InvenTeams are groups of high school students, teachers and mentors that use grants to invent technological solutions to real-world problems.
The device will purify water at a rate of approximately 7.6 liters per hour, enough to support more than fifty people. An addition of various charcoal based filters will remove most chemical and mineral toxins. The system will cost approximately $200 to $300 to mass produce, and will be adaptable to any power source.
The ROP/Los Alamitos InvenTeam will develop the system over the next nine months and showcase a prototype of their invention at EurekaFest June 19-23, 2013 at MIT in Cambridge, Massachusetts.
ABOUT the Lemelson-MIT Program
Celebrating innovation, inspiring youth
The Lemelson-MIT Program supports projects in the U.S. and developing countries that nurture innovators and unleash invention to advance economic, social and environmentally sustainable development. To date the Lemelson Foundation has donated or committed more than $150 million in support of its mission. http://web.mit.edu/invent/
ABOUT North Orange County Regional Occupational Program
North Orange County ROP is a collaborative effort in career technical education by five school districts: Anaheim Union and Fullerton Joint Union High School Districts, and Brea Olinda, Los Alamitos and Placentia-Yorba Linda Unified School Districts, and serves 15 cities in the north Orange County region. It is accredited by the Western Association of Schools and Colleges, and its courses are certified by the California Department of Education. About 93 percent of its students are in high school; those remaining are adults who are enrolled in Health Sciences and Technology, Culinary Arts, Accounting, Masonry, or Business Technology classes for the blind and visually impaired.
To learn more about North Orange County ROP, call (714) 502-5858, or visit ROP on the web at http://www.nocrop.us , or come by the North Orange County ROP Education Center Student Information Services Department, 385 N. Muller Street, Anaheim, CA 92801.