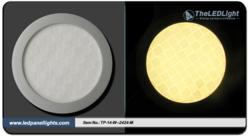 It is a landmark product in the LED industry.
(PRWEB) October 20, 2012
On Oct.19, 2012, The LED Light (China) releases its latest LED panel, mosaic effect round LED panel, TP-14-W-2424-M. According to Afanso Yang, CEO of this company, TP-14-W-2424-M, is a new-generation product with many innovations for round LED panel light, and it is a landmark product in the LED industry. The most attractive advantage is its mosaic optical effect, improving the lighting effect obviously, from single dull to elegant and upscale.
Steve, a top software engineer, and just came back to the company after a show in Hong Kong, introduced, "We design and develop this product from the angle of the LGP (light guide panel). However, when most other companies design a brand new LED panel, they just made some changes in the frame and structure. Our design can provide a brand new idea for the LED industry."
The followings are some details of TP-14-W-2424-M:

24cm diameter;
Recessed installation;
Constant current power supply input;
Constant volt DC24V adaptor input optional;
Warm white, natural white and cold white is optional;
Energy saving around 70%;
Long life more than 5 years (about 50000 hours)
No infrared rays, no ultraviolet radiation, and low thermal effect;
Ultra slim and easy installation;
Even, soft and wide light emitting;
Instant start, no flickering, no humming, no RF interference.
More information about TP-14-W-2424-M can be found at:
http://www.ledpanellights.com/mosaic-effect-round-led-light-panel-tp-14-w-2424-m.html
Afanso Yang emphasized, "LED light panel, TP-14-W-2424-M, is suitable for office, shopping mall, living house, art gallery and museum, where it needs a reliable, elegance, and energy-saving lighting effect. We have 8 years experience in the LED panel light industry, and process a own LED factory. We understand what are the latest styles and what customers need, and we can always provide suitable products for them.
About The LED Light (China) Co., Limited
Founded in 2005, The LED Light (China) Co., Limited is a professional manufacturer of LED products, and its 99% LED light panel products were exported to Europe and America in the past eight years. The company has been hailed as the most reliable LED accessory wholesaler by distributors and well popular among customers by virtue of good services.
More information about LED panel lights can be found at: http://www.ledpanellights.com/