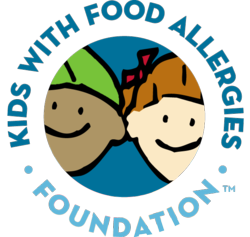 Children with food allergies can enjoy Halloween just as much as other childre, but parents need to plan ahead and be vigilant.
Doylestown, Pa. (PRWEB) October 24, 2012
Halloween can be especially challenging for the growing number of children with food allergies. Today, one in 12 children (up to 8 million overall) is affected by allergies to foods such as milk, peanuts and tree nuts, which are ingredients commonly found in candy. One common allergy – peanut allergy – has tripled in the last decade. To help make Halloween fun and safe for everyone this year, national charity Kids With Food Allergies Foundation (KFA) offers tips from its free Halloween educational resources full of ideas, food-free activities and allergy-friendly recipes available at kidswithfoodallergies.org.
"Children with food allergies can enjoy Halloween just as much other children, but parents need to plan ahead and be vigilant," noted Lynda Mitchell, president of Kids With Food Allergies Foundation. "I learned firsthand the importance of needing to be prepared after my son, as a toddler, had a severe reaction on Halloween. He was carrying a piece of candy and bit right through the wrapper while we were trick-or-treating."
Based on this experience and others, KFA has compiled the following tips so parents can plan a safe and enjoyable Halloween for their children:
Trick or Treating

Purchase a variety of candy to hand out, including some that do not include milk, egg or nuts.
Consider giving neighbors safe Halloween treats in advance to hand out to your child.
Carry your child's epinephrine auto-injector, allergy action plan and cell phone with you.
Bring a flashlight with you so that you can check candy your child has received and to have it available in case of emergency.
Don't allow your child to hold candy that contains ingredients to which he or she is allergic, even if it is wrapped.
Check all ingredients. Remember that treat-sized candy may have different ingredients or may be manufactured on different machinery than their full-sized counterparts.
Trade unsafe candy (or the entire bag) for allergen-safe treats or non-food items once your children return home.
Halloween Parties at School

Make suggestions to the teacher well in advance of the party.
Encourage a focus on non-food items such as crafts, Halloween stories, or a spooky scavenger hunt.
If food will be involved, consider providing safe treats for your child or consider providing safe treats for the whole classroom.
Consider attending the classroom party to ensure that things go smoothly.
Be sure to check out other KFA resources for navigating Halloween with food allergies. They include safe recipes, ideas for non-food events, and other helpful tips.
For more information call Lynda Mitchell at 215-230-5394 or visit http://www.kidswithfoodallergies.org.
About the Kids With Food Allergies Foundation (KFA)
Founded in 2005 as a charity, KFA is a growing national nonprofit organization of 25,000 individuals, families and businesses. Its rapid growth has been spurred by the unprecedented rise in food allergies, which affect about 1 in every 12 children. KFA's program offerings are focused on educating families and communities about practical food allergy management to save children's lives and improve their quality of life. Its interactive website provides a powerhouse of resources, including the nation's largest online support community offering moral support, information sharing and food/cooking support; quality education materials edited by a multidisciplinary medical advisory team; and an online collection of 1,200 "allergy-friendly" recipes. KFA was recently selected as the About.com 2012 Readers' Choice Award winner for best online food allergy support. To find out more, go to: http://www.kidswithfoodallergies.org.