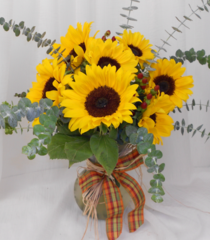 Atlanta, GA (PRWEB) October 27, 2012
Peachtree Petals announces their deal of the week sales initiative . Peachtree Petals is a premier Atlanta florist that specializes in floral designs, wedding bouquets, wedding consultation, and customized floral solutions. The deal of the week is designed to increase sales, in addition to other advertising and online marketing efforts.
The deal of the week is an initiative that will advertise a particular floral arrangement each week. The bouquet will be advertised at the discounted price and highlighted on the home page of the Peachtree Petals website. The company has a fresh image of the bouquet to display its' beauty to shoppers. All the shopper has to do is simply click on the advertisement and proceed to place their order. The Peachtree Petals deal of the week is not limited to only placing the order online, but also customers can place their order via phone.
Peachtree Petals is currently advertising as the deal of the week the Sunflower Madness Bouquet. This delightful bouquet is made up of beautiful sunflowers, accented with eucalyptus, and completed with a complimenting plaid ribbon around the vase. The fall colors of this floral arrangement are fitting for the season. The Sunflower Madness Bouquet is $59.99, which is a discount of 25%. This is a great buy, along with free same-day delivery.
Along with this initiative, Peachtree Peachtree Petals engages is heavy, continuous e-marketing and social media marketing. This includes Facebook, Twitter, David's Bridal, Wedding Wire, and more. Shoppers will be able to visit these sources and find more great deals as well. A business strategy of discounts and deals is essential to capitalizing on online business.
Peachtree Petals is a leading Atlanta florist and is recognized as a Master Florist. With over 25 years of experience, our designers can create floral arrangements and designs that are superior in the floral industry. Peachtree Petals is known for its' quality and simplicity of service. You are guaranteed to have the highest level of customer satisfaction with every single order. The company is also highly known for free same-day flower delivery in Atlanta and all surrounding Metro Atlanta areas.