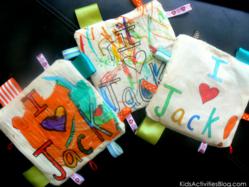 Having older siblings involved in making a homemade baby toy can ease the transition of the arrival of a new baby at home.
Dallas, Texas (PRWEB) October 06, 2012
Making a homemade baby toy can ease the transition for older siblings of the arrival of a new baby according to Moms blogging on Kids Activities Blog. Having activities for siblings already lined up, can help to ease the transition of a new baby at home and forestall jealousy feelings if older children feel they have a personal stake in the baby.
Having older siblings make art for the baby can be easy and inexpensive. This easy DIY baby toy suggested by one Mom, is simple to make at home. Assemble a piece of a cereal bag, fabric strips and ribbons according to the template and let the older siblings have a run on decorating the toy with fabric markers. This homemade baby toy will be a memorable toy for the baby as well as the older sibling, who is thrilled when the baby plays with it, according to the featured Mom.
If the 2 year old sibling is craving for something fun to do, check out the other activities for 2 year old kids. Kids Activities Blog currently features long list of activities inspired by Moms and their curious kids that has Moms blogging in numbers this fall. This endless list features activities based on examination, exploration, investigation, fine motor skills, and messy activities just to name a few.
Kids Activities Blog is a website created by two Moms, Rachel Miller and Holly from June Cleaver Nirvana, to inspire Moms and teachers. This interactive website publishes twice daily and is a great tool for Moms and teachers to find out the latest trends on activities for kids. Check it out to find the latest out-of-the-box learning opportunities for classrooms or at home.