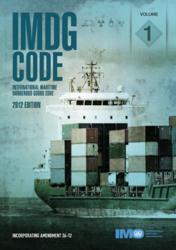 MIAMI (PRWEB) October 01, 2012
The new International Marine Dangerous Goods (IMDG) Code 2012 36th Amendment, the international guide for transporting hazardous goods by sea, is now available for pre-sale order from Air Sea containers, Inc. (ASC) for the discounted price of $207 (versus the average list price of $235) and can be ordered via the ASC website at http://www.airseacontainers.com/imdg-code-36th-edition.html or by calling 866-272-9880.
The IMDG Code 2012 36th Amendment is recommended to governments for adoption or for use as the basis for national regulations. It is intended for use not only by the mariner but also by all those involved in industries and services connected with shipping. The 36th Amendment contains the most up-to-date advice on terminology, packaging, labeling, placarding, markings, stowage, segregation, handling, and emergency response action relating to transporting dangerous goods by sea.
The IMDG Code 2012 36th Amendment is also available in a combo pack with the 2013 54th Edition of the International Air Transport Association (IATA) Dangerous Goods Regulations guide for a discounted price of $414.99, a significant savings versus the standard price of $517. It can be ordered at http://www.airseacontainers.com/54th-edition-iata-36th-edition-imdg-combo.html.
In addition to the IMDG Code and the Dangerous Goods Regulations guide, ASC is also a distributor for a number of other books relating to transportation of hazardous materials or dangerous goods, including the Code of Federal Regulations (CFR) Title 49, published by the U.S. Department of Transportation Pipeline and Hazardous Material Safety Administration and the International Maritime Solid Bulk Cargoes (IMSBC) Code.
Air Sea Containers Inc., with headquarters in Miami, Florida, is one of the leading pioneers of hazmat/dangerous goods packaging and has been offering its products and services world-wide since 1991.
ASC provides hazmat/dangerous goods solutions for schools, universities, government agencies, large fortune 500 companies, small businesses and individuals.