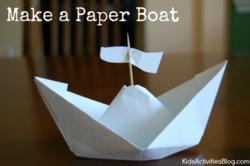 Columbus Day: Paper Boat Day!
Dallas, Texas (PRWEB) October 08, 2012
Columbus Day is Paper Boat Day! How to make a paper boat is the latest question Moms are blogging about on Kids Activities Blog. Telling the story of Columbus is much more fun with a fleet of paper boats to sail.
Making the Nina, Pinta, and Santa Maria, the three little paper boats that sailed across the Atlantic, is both fun and educational. Using three plain white paper 5x7 sheets and three toothpics, follow the template published on Kids Activities Blog. Let the older kids help the younger ones.
Celebrating holidays like Columus Day with Kids and sneaking in learning is what makes Kids Activities Blog great. This easy kids activity and other change of seasons activities for kids have Moms blog in numbers on Kids Activties Blog.
This Mom inspired change of seasons activity does not require ingredients, supplies or money. Celebrate the seasons with the kids by going on a Signs of Fall Hunt. This activitity "forces" the kids to pay attention to the details around them and grounds them to nature. Simple go outside and be ready to find colorful items transformed by mother nature and research the things that make them change.
About Kids Activities Blog
Kids Activities Blog is a website created by two moms (who collectively have 9 children), Rachel Miller and Holly Homer from June Cleaver Nirvana. It is their daily goal to inspire parents and teachers to play with kids. This interactive website publishes simple things to do with kids twice a day. Kids Activities Blog is a great tool for moms and teachers to find kid-friendly activities that create memories and sneak learning into the fun.