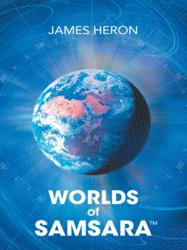 He chose not to die but to continue to live.
Winnetka, CA (PRWEB) October 05, 2012
Tragedy can provoke a variety of emotions to change perspective. In James Heron's new novel "Worlds of Samsara," it takes major loss and a life shift for one man to examine and improve his life.
When Alexandros Vassago's daughter is killed, he is racked with guilt. He attempts to create an out-of-body experience where he will see her, but instead finds himself traveling between parallel worlds. This is the beginning of a journey that will change his life forever.
Alexandros finds that traveling through parallel worlds teaches him lessons that help his own personal growth. The book follows Alexandros through his "evolution from a self-centered sexist into a generous, caring person," says author James Heron. "He chose not to die but to continue to live."
While "Worlds of Samsara" follows Alexandros through new universes, the author draws parallels from characteristics of these worlds to American culture today. Heron pokes fun at contemporary culture and puts a spotlight on negative things that we may not readily see in our daily lives. He uses humor to point out elements of society that seem normal to us, but are truly more unsettling than we may realize.
A mixture of the tragedy of Alexandros' loss and the whimsical humor of the parallel worlds of his travels, "Worlds of Samsara" shows the different colors of life and loss and how someone can transform from tragedy.
"Worlds of Samsara"
By James Heron
ISBN: 978-7-4697-9309-2 (sc); 978-1-46979-310-8 (hc); 978-1-46979-311-5 (e)
Paperback, $15.95
Hardcover, $25.95
Ebook, $3.99
Approximately 220 pages
Available at http://www.amazon.com and http://www.barnesandnoble.com.
About the author
James Heron earned his bachelor's degree in English from UCLA and worked in the public sector for thirty-six years. Now retired, he lives in California. Heron has written for most of his life, and this is his debut novel. He currently writes and edits a newsletter for a metaphysical bookstore.