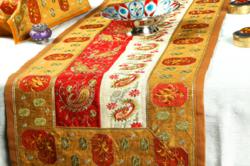 Over 80 unique - breathtaking colors and exclusive hand crafted designs.
Swampscott, MA (PRWEB) October 04, 2012
Banarsi Designs announces the launch of its online shopping experience http://www.banarsidesigns.com, with a refreshingly unique and interactive website compatible with social media outlets such as Pinterest, allowing users to share home décor ideas and photographs with a single click.
Banarsi Designs has exploded into the world of home décor with stylish and striking choices for tables, nightstands, beds, and more. With designs that have been embroidered, beaded or painted by hand, Banarsi offers merchandise that you simply cannot find anywhere else. This trademark luxury style makes it easy for home décor enthusiasts to change the look of their surroundings with little effort.
High quality Indian made fabrics, shimmering embroidery, and expertly hand sewn beadwork are offered in over 80 bold shades to allow for the coordination of the perfect color palette for home, business, and entertaining. Catering to luxury home décor enthusiasts, businesses, and special event coordinators, Banarsi Designs has options for everyone.
Banarsi Designs' collection has carved out its own niche in the décor industry with the one-of-a-kind appeal of its unique table décor such as table runners, tablecloths, placemats, pillow covers, bedding sets, and tissue box covers. The merchandise is recognized for its luxurious look, with many designs featuring whimsical touches or classic style. Each piece exudes elegance and is influenced by modern Indian design. The merchandise often features romantic borders, detailed Cut Dana beading, and Dupion silk, individualized with hand painting and expert embroidery.
Versatile designs, master craftsmanship, artistic elegance, and luxurious materials are what set Banarsi Designs apart from competitors. The exclusive Banarsi home décor collection is only available through Banarsi Designs' online home décor store.