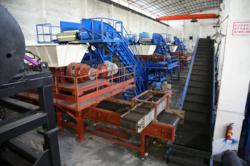 Streator, IL (PRWEB) October 05, 2012
Mr. Burda, the CEO of Global Development, Global-Recycling-Equipment.com, and Shredderhotline.com, is unknown by many groups who are involved in the recycling field. However the Burda Family operates one of the world's largest manufacturing conglomerates in the world with major base of operations in China and USA. The Burda family has been responsible for the pioneering of recycling equipment as early as 1966. Little do people know that waste management recycling systems and recycling processes today would not be possible without the technology and equipment pioneered by this family group.
Now, this group is offering something new, once again, to the world: Shredding lines. "Just like other shredder manufacturers, we offer standard models. But, we now offer shredding lines as product package. This new Pender system is so versatile it can actually be used for a wide variety of applications without any modifications. This is why we offer it as a standard product."
"With these new designs the users can operate 24 hours a day, 365 days a year. You can simply pull one of the shredders from the line for maintenance and let the other industrial shredders in the system carry the load." says Dan Burda.
"People need these new lines to accommodate the future needs of waste management, and with our corporate structure and pricing, these lines can be acquired and return better profits in less time than the machines offered by our competitors."
This new system will be installed in the Carolinas. Because of the incredible capabilities of this system, the company has decided to offer it as a standard product, called the Pender system. This three shredder line is offered to the general public for 750 000$. This is game changer for the industry, who has been limited to single shredder systems for the same investment.
Every recycling center depends on one key piece of equipment: an industrial shredder. This shredding machinery takes on many forms and designs. All of them accomplish the task of processing waste materials and reducing their size for further processing and sorting and separation.
Today's Recycling and Shredding Systems would be a very different today had it not been for the Burda Family, who patented the first metal shredder in 1966 and the first tire shredder in 1972. There isn't a shredder design used today that does not have some lineage to the Burda Family.
Dan Burda and his father, Vernon Burda helped pioneer this worldwide industry of shredders and shredding systems for recycling. Today, the Burda Family of America has joined forces with the Weston Family of Canada to change the face of waste processing by pioneering the field once again with industrial shredding lines.
For the past 45 years, the industry has been using single shredders and shredding lines to accomplish most shredding tasks. Change is required and the single industrial shredder lines are no longer the best solution for customers in todays diversified recycling world. Facilities need more precise final particle sizes, higher throughput and lower maintenance and operating cost.