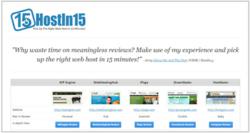 HostIn15.com - Get Real Hosting Reviews And Pick Up The Right Host In 15 Mins.
(PRWEB) October 08, 2012
After years of working with people to help find the perfect web host, HostIn15 (http://hostin15.com) owner Jerry Low realized there is a formula to choosing a hosting company. Instead of spending countless hours researching hosting companies, reading web host reviews, and visiting hosting websites, HostIn15 has come up with a quick and efficient way for businesses and individuals to find a host in 15 minutes or less. Visitors to HostIn15 will also avoid those fake reviews put out by hosting companies to try to convince people to use a particular service. Visitors to HostIn15 will get upfront, honest and comprehensive information on which hosting companies meet the needs of a business, but more importantly the information is FAST!
In a 2012 study conducted by the UK-based hosting provider Q3 Internet, only 35 percent of companies indicated they are satisfied with their current web host. That means that at any given time around 65 percent of businesses might be in the market for a new web hosting company. The same study shows that people are not tied into one way to find web hosts, but many utilize Internet searches to find a new host. Using Internet searches can be a time consuming proposition.
One of the biggest benefits of using HostIn15 is the time saved. Instead of reading reviews, going over features, asking other web hosts about their experiences, visitors will find everything needed in one convenient place.
CEO Jerry Low has also come up with a way to save more money. "The site's minimalist approach is meant to help readers pick up the right web host in 15 minutes. I am also able to get an exclusive promo code from WebHostingHub, GreenGeeks, and Hostgator - this brings extra discount for those who order from me," he shared.
A detailed table outlines the top five hosting companies that will work for most people. Each company offers specific benefits that business owners can see at a quick glance. Learn details that would have to be hunted for at the host's website. Discover information on true storage capacity, shopping cart capabilities, payment gateways and hidden charges. Once a host is found that sounds like a good match, go directly to an in-depth review. "Many hosting reviews are written based on what you can see from the outside – features, prices, etc. Reviews at HostIn15 are written based on my real experience from the inside," said Low.
"Some critical issues that will discourage your company's sales were normally ignored by other reviewers. HostIn15 covers some of the sensitive issues like at what level of server resources consumption the host will suspend your accounts, limits on inodes usage, renewal fees structure (ipage, for example, charges 100 percent higher than the first-signup promotional prices), and proofs on green hosting (this takes further investigations with third party certification authorities – for example Greengeeks is proven to be 300 percent green on paper)," said Jerry Low, CEO of HostIn15.
Jerry Low designed a flash website back in 2002 and by 2004 had established his web development business. Two short years later, he became a full-time web developer/marketer and built the popular web hosting review site, WebHostingSecretRevealed.com (WHSR). He personally tries out the web hosting services listed on HostIn15, which gives him inside information on how each hosting company operates.
"Because of work and my personal interests, I get to 'play' with lots of different hosting services. To name a few: Network Eleven, Gate.com, Lunarpages, iPowerWeb, Dot 5, Hostgator, BlueHost, HostMonster, iPage, FatCow, JustHost, WebHostingHub, WP Engine, and Exabytes."