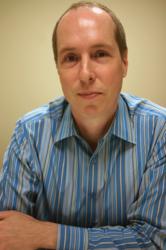 A hired philosopher is like a thinking partner. If you have a thorny issue a philosopher not only can help you think about it but give you a plan to get out of the woods. That's when things gets easier.
(PRWEB) October 09, 2012
Synaxis is expanding to Washington, D.C. with philosopher-in-chief Paul Welty and his staff offering technology, marketing and sales solutions to East Coast companies who value out-of-the-box analytical thinking.
Martin Davis, a 12-year Washingtonian with extensive experience in the nonprofit and association worlds, has been hired as Synaxis' director of client services, nonprofit and government. Welty says the addition of Davis positions the Atlanta-based company for growth not only in the Washington corridor, but in Philadelphia, New York and other East Coast cities.
"Our aim is to bring our analytical approach and problem-solving methodology to education organizations, trade associations and federal agencies," says Welty, citing a recent website redesign for Achieve, an education policy organization in Washington. "We like to think of ourselves as `the anti-technology technologists' because we revel in providing simple solutions to problems that leave others shaking their heads."
What Synaxis can do that others can't is think philosophically to find solutions, not only in Atlanta, but now for companies along the East Coast.
That approach is a reflection of Welty, who has three degrees in philosophy, including a Ph.D. It was the French philosopher Descartes who famously said, "I think, therefore I am." At Synaxis, Welty thinks so his clients succeed.
"Paul has a unique ability," says Jon Nitto, an Atlanta-based senior executive in the IT industry. "You can have what you believe is a simple conversation with him. Paul, on the other hand, is taking it all in. He's really listening to you. And by the end of the conversation, he quite literally has broken down the conversation into segments -- the perceived issue, the real issue, why your attempt to resolve it has probably failed and what really needs to be done to fix it. "
That eagerness to solve problems began before Welty got his Ph.D. in philosophy at Emory University, his master's in philosophy at Emory and even his bachelor's degree in philosophy (as well as physics and German) at Jacksonville University.
Welty was 16 when his uncle, an engineer, asked him if he thought he was smart enough to program industrial machines to automate the loading of 10 tons of flour into a train car.
"My friends were working at McDonald's while I was putting on my hard hat to help program computers," says Welty. "I loved that. It wasn't just theoretical. There were piles of flour on the floor. It was really real."
Welty left for college with intentions of focusing on physics. Then an Intro to Philosophy class exposed him to Plato, Socrates and Heidegger.
"It was a whole new way of thinking I really liked," says Welty. "Analysis is about taking things apart. You always go back, break things down and strip them to their anatomical components to find the part that's really real. Take Descartes. In his `Meditations on First Philosophy' he just kept going backward and backward until he finally got down to the bedrock."
Welty employs his philosophical and technological know-how to create strategic initiatives, as well as integrated marketing and sales solutions. This includes internal communications campaigns, Web strategies for large e-commerce sites, extranets, intranets, newsletters, and brochures.
Synaxis also provides large yet easy-to-use custom Drupal websites and SugarCRM installations, as well as more basic services such as hosting and analytics.
To get things started with a client, Welty asks them to explain their problem in granular detail. Welty often takes notes at a whiteboard, marker in hand.
"I like to visualize my clients coming to me as if they had arms and arms full of paper, much of it crumpled, and only a vague idea of what they want," says Welty. "I let them dump all this paper, every bit of it, out on the table. I grab these wadded up pieces to unravel and examine.
"I then organize the papers, putting some in piles, pushing some to the side, and throwing some out. In the end we have a nice, organized set of stuff. We understand where we are and what we need to do."
With a master's degree in history from the University of Chicago and degrees in history and religion from the University of North Carolina at Greensboro, Davis also likes to tackle problems layer by layer, sorting out the distractions to deliver what clients need.
Welty takes an active role with every client as Synaxis' philosopher-in-chief.
"A hired philosopher is like a thinking partner," explained Welty. "If you have a thorny issue a philosopher not only can help you think about it but give you a plan to get out of the woods. Then you're less anxious. That's when things gets easier."
###
To request Welty as a thinking partner, media interview or event speaker contact Ben Rust, Synaxis Director of Client Development, at 404-222-0150, ext. 2. Subscribe to the Synaxis newsletter here.