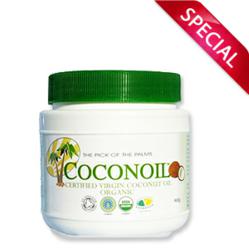 Besides the benefits of coconut oil for health, it is also good for the skin and hair.
Manchester, UK (PRWEB) October 06, 2012
Being a reputed importer of pure virgin coconut oil from Sri Lanka, Coconoil is counted among the leading organizations in the UK. The company is now offering finest quality organic virgin coconut oil to the customers in different capacities. Customers can get this in as less as £5.95 each!
Discussing about the organic virgin coconut oil, a senior executive working with them commented, "Produced from Sri Lanka's 'Pick of The Palms', our virgin organic coconut oil meets the stringent criteria and best quality that customers demand. With the organic certifications from Soil Association, USDA Organic and Control Union Certifications, our virgin coconut oil is approved as suitable for vegans and vegetarians."
Virgin organic coconut oil offered by the company is certified and comes in 460g tubs, 250g handy sizes and 10kg containers for buying online. High in quality, this coconut oil is not bleached, refined, hydrogenated and deodorised. The company offers all the containers of pure virgin organic coconut oil with foil seal and screw topped in order to retain freshness.
Talking about the company, the senior executive further added, "With its effective nutritional benefits, thousands of people in the UK are now switching to the v irgin organic coconut oil. Being the leading seller of ethically traded and certified virgin coconut oil from Sri Lanka, we provide our customers with fine quality oil for different purposes."
Being a rich source of nutrition, there are multiple health benefits of virgin organic coconut oil. With coconut oil in their diets, people can increase metabolism rate and energy. Besides the benefits of coconut oil (http://www.coconoil.co.uk/content/14-coconut-oil-diet) for health, it is good for skin and hair as well.