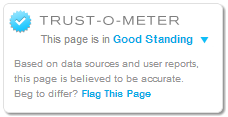 Data integrity is at the heart of Blocksy's effort to improve the home and apartment search process.
(PRWEB) October 05, 2012
In an effort designed to boost the integrity of real estate information online, next generation home and apartment hunting site Blocksy.com is announcing today a new feature called the Blocksy Trust-O-Meter™. The feature is displayed prominently on most pages of the Blocksy website and, similar to the way in which Wikipedia relies on its users to govern its information, the Trust-O-Meter relies on Blocksy's crowd to alert one another and the company when information about home sales, apartment rentals or New York buildings, boroughs or neighborhoods is found to be inaccurate for any reason.
Jason White, Blocksy's CEO and Co-Founder explains that "data integrity is at the heart of Blocksy's effort to improve the home and apartment search process." White adds "there are a host of reasons that real estate information online ends up being inaccurate, including human error, technical oversight, and unscrupulous practices on the part of real estate professionals. We're confident Blocksy can address all of these problems for users."
The Blocksy team believes that if house hunters can't trust the information they view, they may experience anxiety about the possibility of their time and energy being wasted. Moreover, unreliable data puts users at risk of being disappointed when apartments or homes they like are unavailable or substantively different than described in listings.
The Trust-O-Meter works by allowing logged in users to flag information found to be inaccurate. If a certain number of flags are received, for example about a listing not being available, then the status of a given listing may be adjusted from 'Good Standing' to 'Under Review.' In addition, users may be shown the volume and nature of community flags to determine how reliable certain listings or related pages are.
During its initial few weeks of alpha-testing on the Blocksy site, the Trust-O-Meter has received wide expressions of support, both from consumers and real estate professionals who use Blocksy to research New York home listings and apartment rentals. So much so that the company has expanded the program. While it was initially designed to serve as a flag system for home and apartment listings, Blocksy has deployed the Trust-O-Meter to nearly all pages of its site, including neighborhood-level report pages (such as its West Village apartment page), borough-level report pages (such as Blocksy's page for Manhattan homes), and building-level report pages (such as Blocksy's page for the Trump Place at 120 Riverside).
Despite the positive reaction to Blocksy's newest feature, White is quick to explain that the Trust-O-Meter is merely one of many features to be rolled out as part of Blocksy's ongoing effort to improve the home and apartment research process. "Blocksy is in the earliest stages of life and just getting going" says White, adding "we won't stop releasing cool new features until we've made it a thousand times easier, cleaner, and more joyful to look for homes and apartments on the web."
About Blocksy
Blocksy.com is wholly owned by Blocksy Inc, a Delaware corporation. Blocksy.com provides the highest quality, cleanest, and fastest method of searching for real estate online. The site currently serves the New York realty market and combines listings of townhouses, co-ops, condominiums, rental apartments, property records and more. Blocksy listings are updated hourly and constitute the most comprehensive and up to date information for New York home buyers and apartment renters online.