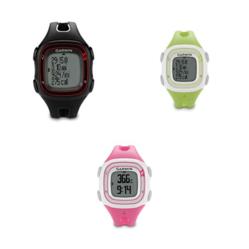 The hundreds of customers we have talked to think these differences - weight, color and download capability - are huge
Bozeman, MT (PRWEB) October 05, 2012
The Garmin Forerunner 10 and Timex Marathon have been tested thoroughly by testers at the Heart Rate Watch Company and there are decided differences between the $100 watches and the $129 Garmin Forerunner 10, so let's get to those differences.
If you are a serious runner desiring heart rate then check out the Garmin Forerunner 210.
THE HEAVYWEIGHT CHAMP IS?
The Forerunner 10 weighs a mere 1.25 ounces, the Timex Marathon weighs 2.25 ounces - sounds insignificant, right? Wrong, that is 80% heavier and women do notice it.
The Timex Marathon is wider, taller and thicker and weighs a whole lot more.
COLOR MATTERS
"I've been married for 20 years and have two high school aged daughters and if there are two things I have learned it is that - color and size matters to women a lot." says Squire. The Timex Marathon is black or 90% black with 10% blue highlights. The Garmin Forerunner 10 watches are pink and lime green, lesson for guys, girls like fun colors.
Once again, Garmin wins.
ACTIVITY DOWNLOAD MATTERS
The Timex Marathon cannot download activities for later review and comparison, while the Garmin Forerunner 10 can. This is yet another clear distinction between the two devices.
"While some bloggers think these differences are insignificant, I can tell you that they are not because the difference is I talk with dozens of customers everyday, while they talk to zero, only answering occasional blog posts", says Squire, adding that, "The hundreds of customers we have talked to think these differences - weight, color and download capability - are significant."
"Yes, there is a $29 difference between the two watches, but Garmin more than warrants the $29 additional dollars in our opinion", says Squire.