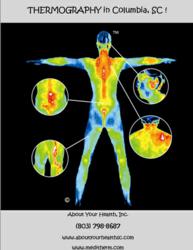 Columbia, SC (PRWEB) October 10, 2012
About Your Health Inc., a leading provider of natural health care education and holistic treatment, recently announced they are offering a special discount on breast thermography in recognition of Breast Health Awareness Month. During the month of October, the company will offer 50% off of breast thermography. The company will also offer a 50% discount on breast thermography that clients purchase for a friend to use within six months, as well as 50% off the 2nd breast thermography test if the client pays at the time of scheduling.
Breast thermography is a painless breast screening that is radiation free, non-invasive and FDA approved. It utilizes digital infrared imaging to make diagnostic-quality images of the breasts. The images created will show thermal symmetry in a normal healthy body and subtle abnormal temperature asymmetry's in a possible unhealthy body. This tool allows for early detection of abnormalities, making it ideal for use in maintaining breast health.
"The procedure is quick and easy," explains Yvonne Lucas, CNC, CNHP of About Your Health. "Your medical history is taken before you partially disrobe for the scan. The scanning is done by a technician who simply takes your picture. These photos and your medical history are sent to an interpretation company and your results are reported quickly by certified medical doctors and include all color images taken during your test."
"Your thermal fingerprint or thermal baseline is established with your initial visit and a subsequent visit three months later," Ms. Lucas continues. "All of your thermograms (images) are kept on record and once your stable thermal pattern has been established any changes can be detected during a routine annual study." For further information about breast and full body thermography and all of the services offered at About Your Health, visit their website at http://www.aboutyourhealthsc.com or call (803) 798-8687 to schedule an appointment.
About the company:
About Your Health is a business located in Columbia, South Carolina. Their main focus is health education and they offer many health enhancing services to the public including Hyperbaric Oxygen Therapy and Thermography. Their core belief is the same as an age old proverb "No time for your health today, no health for your time tomorrow". They encourage everyone to take what is rightfully theirs (good health) and take it to the limit. For more information visit their website at http://www.aboutyourhealthsc.com.