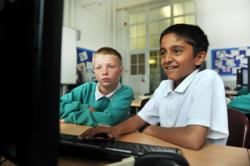 "All of the content was focused and useful; a complete package. Each element led to topical class discussion helping to identify children's level of safety awareness, understanding and attitudes." (ICT Teacher)
(PRWEB) October 07, 2012
Safe is the certificate in social networking from DigitalMe, funded by the Nominet Trust.
Safe is a programme of practical activities that develop young people's skills, self-confidence and safety awareness when using social networking sites. Free Safe materials and teacher resources enable a school to easily deliver engaging activities and develop digital literacy skills. Teamed up with Makewaves, the award winning social learning environment, Safe allows teachers to reinforce a positive message around social networking. Over the last two years, Safe has been rolled out in over 2,000 schools in the UK and internationally. New, updated Safe resources have been developed by DigitalMe for schools and focus on two age groups; 7-11 and 11-16, to ensure a positive start for all children to become the digital leaders of tomorrow.
Alan MacKenzie, leading e-safety consultant explains;
"The large majority of children and young people are now interacting over the Internet using a variety of connected devices. So if they are already doing something that they enjoy, shouldn't schools capitalize on that? Is it possible to engage the students through digital platforms, using ICT across the curriculum - not just for ICT; where the staff empower a positive e-safety message; where the parents are also engaged? The Safe and Makewaves partnership does exactly that - providing resources for teachers and students to use social networking as an engagement and collaborative tool in a moderated and managed environment, whilst empowering the students with the important e-safety messages."
The Safe resources have recently been the subject of a report by the Unit for School and Family Studies at Goldsmiths, University of London. Their findings give concrete evidence of the impact on young people when completing the Safe programme; there was a 25% increase in seven year olds knowing more about creating an appropriate profile and image whilst ten year olds became more aware of copyright laws and sharing media safely.
The Report author, Fran Thompson suggests "the evaluation showed that even in schools with good practice in e-safety, there were significant gaps. So, Safe not only reinforces past e-safety messages but also fills the 'gaps' in the students' knowledge."
The research confirmed that the large majority of children and young people are now engaging over the Internet using a variety of connected devices, typically using social networking. An essential part of safeguarding in the school is to educate young people in e-safety and Ofsted recognize this in their new inspection framework.
Alan MacKenzie advises "Ofsted have recently made significant changes to the e-safety inspection framework. Traditionally an inspector would ask to see the school Acceptable
Use Policy; from September this year inspectors will delve much more deeply into the provision of e-safety in the school to ensure that it is embedded and progressive across the whole school community, not just a once-per-year assembly with the children; this means engagement with governors, all staff, the children, parents and carers. Strong leadership is key; headteachers and
governing bodies must ensure the school is able to deliver something that engages the students with key life skills to ensure they are safe outside of school and into adulthood.
Safe and Makewaves offer schools the perfect solution to creating a culture of engaged learning using social networking in a controlled, managed environment whilst empowering young people with positive e-safety messages. Using the Safe and Makewaves framework allows schools to provide collaborative ICT across all curriculum subjects in a classroom or global environment that can be shared with others, including parents. Detailed guides, worksheets and supporting documents mean lessons are structured to lead students on a journey of learning across the curriculum year and give schools all the tools they need to facilitate this learning.
The Safe and Makewaves framework of tools is a complete collaborative solution to modern-day needs. Children and young people are using social networking more and more; it is vital that they are empowered with the safe and positive use of this powerful medium today in order to be the digital leaders of tomorrow."
Sign up to the growing network of over 2000 schools using Safe in the curriculum and fulfilling the requirements of the new Ofsted Framework. For free lesson plans, video tutorials and a dedicated school media site on the Safe Network, register on http://www.makewav.es/joinsafe