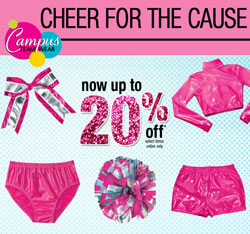 "Our pink products are priced significantly lower than our competitors, but they are high quality, so teams can save their pink gear and reuse them next October, and many Octobers after."
San Diego, CA (PRWEB) October 06, 2012
Campus Teamwear's online cheerleading apparel store is running a limited time 20 percent off sale on select pink cheer gear, accessories and other items that help cheerleading teams add pink to their uniforms to show support for Breast Cancer Awareness Month. The sale is available to email subscribers and Facebook fans.
"Our pink metallic cheerleading items are the perfect way for cheer squads to shine with support this October," commented Campus Teamwear marketing manager Jessica Rzeszut. "Our pink products are priced significantly lower than our competitors, but they are high quality, so teams can save their pink gear and reuse them next October, and many Octobers after."
The pink sale is an annual event for Campus Teamwear, and the cheerleading company encourages customers to use the money they save to make pledge to breast cancer research.
This year, the pink sale includes several products from the Campus Teamwear body basic, pom and bow Spring 2012 Collections.
Body basics that are on sale include the metallic pink crop top, classic briefs and boy-cut briefs from Chassé®. The crop top features a turtleneck, elastic waistband and back zipper and is priced at $16.95, a 15 percent savings over the everyday price.
The 2-color metallic holographic pom by Chassé® is currently on sale for $7.95, which is 20 percent of the normal price. The pom features a baton handle holding approximately 1,400 pink and silver metallic streamers.
Campus Teamwear is also offering a cheerleading hairbow as part of the sale, priced at $3.95 for a 20 percent savings. The bow features oversized metallic pink and silver ribbons attached to a ponytail holder.
The pink sale runs through Sunday, October 14th at midnight (PST). To access the sale, visit the ad on the Campus Teamwear Facebook page.
About Campus Teamwear
For over twenty years, Campus Teamwear has supplied cheerleaders with apparel and accessories. The cheer gear retailer guarantees the absolute lowest prices on high-quality items, including uniforms, warm-ups, shoes, pom poms, practice wear, accessories, fundraising items, and body basics. To learn more, please visit the online store.