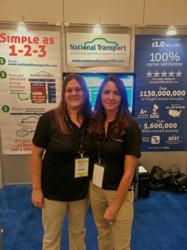 National Transport will be featured as one of more than 30 exhibitors at this year's NAAA Conference.
Cocoa Beach, FL (PRWEB) October 05, 2012
Auto transport leader, National Transport, will be attending the 2012 National Auto Auction Association Annual (NAAA) Conference this year in Orlando, Florida. The conference will take place from October 2 - October 5 and will feature keynote speakers, Archie Manning (former All-American Quarterback and NFL icon) as well as Rocky Bleier (Vietnam Veteran and Super Bowl Winner).
Mixing & Mingling with Auto Industry Leaders
This year's NAAA Conference isn't all business as it will feature such events as a 5k fun run, educational sessions about what is going on within the automotive industry as well as a social hour and presidential gala, to name a few. There will even be a complimentary spouse event where attendees will work hand-in-hand with culinary professionals to learn how to create classic dishes for entertaining!
Auto Transport Leader, National Transport as one of Many Featured Exhibitors
National Transport will be featured as one of more than 30 exhibitors at this year's NAAA Conference. As such, they will have their own booth, where people will be able to stop by and learn about all of the great ways that auto transport can save both businesses and individuals money and time when moving, transferring for a job or purchasing vehicles from abroad.
The Auto Transport Industry Then, Now & in the Future
There is no doubt that transportation, particularly car transport, plays a huge role in the way that we live today. In a society that is becoming ever increasingly mobile, staying up-to-date with the latest trends, technology and businesses is important. That said, National Transport is proud to be at the forefront of their auto transportation peers by taking part in this year's 2012 NAAA Conference.
For more information about the conference, list of attendees or for a schedule of events, visit their website by clicking here.
About National Transport, LLC:
National Transport, LLC is one of the leading auto transport companies in the United States, providing some of the most affordable car shipping rates in the industry. You can also follow National Transport LLC on Twitter.
About the NAAA
Founded in 1948, the National Auto Auction Association represents more than 321 auto auctions both domestic and international, with more than 9 million units sold each year. Its purpose is to represent the auction industry to its customers; federal, state, and local legislative, regulatory, and enforcement authorities; national media and industry trade press; and the automotive industry at large. For more information about the NAAA, visit their website by clicking here.