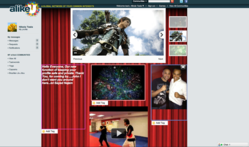 My friends are getting tired of always having to tweak their Facebook profiles for maximum cool. It's like they're in a play, performing to look happy when actually they may feel lonely or insecure.
Cranston, Rhode Island (PRWEB) October 09, 2012
alikeU.com officially opened its virtual doors last week to members worldwide (http://www.alikeU.com) providing breakthrough functionality for business, educational, and personal use. Positioned on simple, easy-to-use features, alikeU.com puts power back into the hands of the user—individuals or brands—to build focused content driven communities designed for growth.
alikeU's innovative proprietary platform addresses a real need for today's youth. "We're in the Digital Age—witnessing a cultural shift in how young people access and interact with information. It's harder than ever now for teachers to connect with students and keep them engaged," said Sayed Najem, Creator and Chief Executive Officer of alikeU. "alikeU.com will facilitate a new classroom paradigm. It will change the way students interact with their peers and teachers, transforming the entire classroom environment. Most importantly, alikeU will enable new voices to be heard."
The company has a unique funding story. Najem says, "we're a bootstrapped company whose development has been completely organic. This allows me to introduce a new concept to the social networking paradigm: our ethical business model is set up to give back to society so alikeU.com works for the greater good of humanity." Sayed Najem is a two-time Olympic Silver medalist and World Champion in Taekwondo originally from Lebanon. He draws all of his creativity and inspiration from Steve Jobs and Apple.
Jennifer Gonzalez, a 12th grader at Edison High School in Alexandria, Virginia thinks alikeU.com will grow quickly. "My friends are getting tired of always having to tweak their Facebook profiles for maximum cool. It's like they're in a play, performing to look happy when actually they may feel lonely or insecure. alikeU is totally different than any other social network. It's just you connecting with people around the world who like what you like. So you don't have to pretend." Gonzalez also believes alikeU serves a host of other needs. "Kids can use alikeU.com to prepare for advanced placement exams and it will also really help students with learning disabilities. But what I like most about alikeU is it gives us power, to do good online and offline."
alikeU.com is a new way to connect, create, and share. It's integrated with other social platforms including Facebook, Google+, Twitter, LinkedIn, and Instagram so users can instantly exchange rich media and content. Members create free online communities based around common interests, friends or business. The robust alikeU community platform gives users the ability to create member profiles, groups, discussion forums, and blogs. alikeU technology is an interconnected system where all communities created are part of a centralized network thus adding a high level of security, scalability, and functionality.
And introducing "Curtain Call"…a fun way for alikeU users to have complete privacy. Curtain Call is alikeU.com's proprietary security setting that members can use when they don't want others to see their profiles. Once closed, alikeU members have the option of uploading videos, photos, and text directly onto the curtain. Like the theater, people can see bits and pieces of the production but not the entire show until the curtain is lifted.
"Some users are fed up with mandatory changes and additions, they may not like Timeline or they still have privacy concerns. At alikeU we promise privacy and control, and that in turn produces greater customer satisfaction," said Najem. "alikeU.com is a novel approach to social interactions between people sharing the same interests and passions. But it was just as important to me to create a more private and secure user experience."
Headquartered in Cranston, Rhode Island, alikeU.com is an out-of-the-box community-networking platform with a purpose. It empowers people and brands to build focused communities that exchange information on a global scale. alikeU is poised to partner with business and academia—revolutionizing the way work gets done in the office and improving every aspect of the education experience.