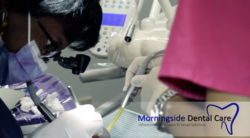 New York, NY (PRWEB) October 06, 2012
Dr. Donna Williams of Morningside Dental Care is offering patients with gum disease the Laser Assisted New Attachment Procedure. The LANAP is fully cleared by the FDA and is only minimally invasive. In addition, there is little pain associated with this procedure and the recovery or down time for periodontal disease treatment with LANAP is generally quite short.
With the LANAP procedure, Dr. Williams uses a probe to determine the depth of the pockets between the gums and teeth that have formed because of gum disease. The next step is to use the laser to get rid of the bacteria that have collected in these pockets and to remove diseased gum tissue. The laser is very selective and does not harm healthy gum tissue.
The gum tissue that is left is compacted and stimulated to re-attach to the tooth. The bone is stimulated to help it regenerate. This is all done without the use of a scalpel, so pain is minimized. No sutures are needed after the LANAP periodontal disease treatment, which aids in a relatively speedy recovery. The long-term results have been quite positive.
Millions of adults in this country suffer from gum disease, yet do not seek treatment. One reason may be that they are apprehensive about traditional methods of treatment. With the LANAP procedure, Dr. Williams has an alternative treatment method that may be more appealing to a broader range of people. The idea is to treat people before they lose their teeth as a result of periodontal disease, or have other health issues that are linked to this problem. To learn more about periodontal disease and LANAP, please visit http://www.nylasergumsurgery.com.
Morningside Dental Care is a general practice offering patients personalized dental care for New York, New York. Dr. Donna Williams started her dental career at Howard University as a Dental Hygienist. She graduated from Baltimore College Dental Surgery/University of Maryland, the first dental school in the world. Throughout her dental school education she received awards and recognition, including maintaining a 4.0 GPA during her initial year, and an award for outstanding research in the Dental Clinical Science Research competition. She completed a fellowship in Holistic dentistry and is one of very few general dentists who have achieved this accomplishment. Having lived in Africa for a year, she returns on a regular basis to volunteer, providing dental service and education to villagers. Dr. Williams is part of one percent of dental professionals providing the most recent FDA cleared laser procedure for gum disease and periodontal treatment. To learn more about Morningside Dental Care and their dental services visit their website at http://www.nylasergumsurgery.com and call (347) 694-4342.