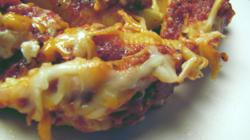 Eating healthy for your heart should be a joy not a curse. My cook book brings tasty and delicious meals back into fashion for heart health and pure enjoyment.
Cambria CA. (PRWEB) October 09, 2012
Cook Book Inspired by 57-Year Old Author Who Had Heart Attack
Dr. Kac Young, the former, high-level, workaholic, TV industry executive, used to be one of the 43% Americans who was sure she ate healthy, but was unwittingly eating her way to a heart attack. After Dr. Young DID have a heart attack at age 57, (one of her arteries was 99% blocked,) she was shocked to learn her diet wasn't as healthful as she thought. "I surprised myself with all the hidden things I was eating that were causing plaque to build up in my arteries," states Dr. Young. She vowed to create meals that substituted the bad-for-you foods, like deep fried Chinese food, with good-for-you foods, such as using canola or virgin olive oil, instead of butter, yet kept them tasty and heart-healthy.
Dr. Young set about ways to revamp her favorite recipes to reduce the key contributors to heart disease: saturated fat, sodium and sugar and still make them delicious, "not like cardboard." Young not only went back to school to earn her doctoral degrees in Natural Health and Naturopathy, but also wrote the well-researched cook book and nutritional guide "Heart Easy: The Food Lovers' Guide to Heart Healthy Eating" to help others prevent a stroke or heart attack like she experienced (http://www.hearteasy.com) Indeed, Dr. Young reduced her cholesterol from 268 to 152 by following her own eating/recipe plan!
Cardio-vascular disease (CVD) is the number one killer in America. One out of every four adult Americans has some form of CVD and many do not even know they have it. "My cook book is a first step to inspire the burger-eating, cheese-loving, pizza cramming, fast food population to convert their ingredients to non-saturated fats, drastically reduced sugar and minimal sodium in common recipes," explains Young.
Young personally not only created every one of the recipes in the book, but also tried them on her friends. Says Actress Jacklyn Zeman, "HEART EASY is a cook book and so much more! In addition to hundreds of delicious recipes, Dr. Kac Young has created a lifestyle and nutritional guide, which is packed with valuable, vital, information and juicy tidbits for a healthier heart. Her recipes offer smart, healthy, easy, and delicious choices for our daily meals and real treats for the taste buds. I use it. I've given copies to my friends. It should be in every home."
In Heart Easy, one can even find healthy recipes for pizza and mac and cheese! "The number one saturated fat that we consume is cheese," states Dr. Young. "Even my most resistant dinner guests couldn't believe they were eating Swiss-flavored, rice cheese in place of regular fat-laden dairy cheese in my reformed, heart-healthy Enchiladas Suisse. People will be astounded by how good their food tastes with the heart-healthy substitutes I suggest in my recipes."
One of her goals in the book is to provide a core of smart, solid reliable information as a basis for making health decisions for healthy eating and living. "After my heart attack, I started to read labels on everything I ate and it is shocking how many fats and sodium are in most foods consumers feed their families."
The author passionately believes that what we eat can affect our heart health in a positive way.
For more information, please visit http://www.HeartEasy.com
# # #
About the author: Dr. Kac Young is a former television director and producer, has a PhD in Natural Health, is a doctor of both Clinical Hypnotherapy and Naturopathy and has authored 8 books. Heart Easy™ is a cook book and a way of life developed specifically to save the lives of Americans through meals they can enjoy.
Heart Easy ™
Stuffed Jumbo Pasta Shells
As good as you'd find in fine Italian restaurants, these stuffed shells are rich, delicious, bursting with flavor minus the saturated fats.
Serves 8
Ingredients:
10 oz. frozen chopped spinach, thawed and drained, or 1 cup fresh basil leaves, chopped fine
8 oz. jumbo pasta shells
2 cups non-fat cottage cheese, drained
2 egg whites or 1/3 Cup Reddi Egg
4 oz. shredded Lisanatti Foods SoySation® Mozzarella style or SoySation® 3 Cheese Blend
3 Tbs. shredded low fat Parmesan cheese
1/4 tsp. garlic powder 1/2 tsp. fresh ground pepper
1, 16 oz. jar tomato basil sauce, low fat (under 1.5 grams saturated fat)
1/4 cup fresh mushrooms, chopped.
Non fat olive or canola oil spray
4 cup Lisanatti SoySation® 3 cheese blend, reserved
Directions:
Cook spinach, drain thoroughly. Cook jumbo shells according to package directions to al dente. Drain and rinse with cold water. Set aside.
Spray a small skillet with olive or canola oil spray. Add mushrooms and sauté for 2 minutes.
In a medium bowl, combine spinach or basil, cottage cheese, egg mixture, shredded mozzarella, shredded Parmesan, garlic powder, mushrooms and pepper.
Stuff mixture into shells and place in baking dish that has been coated with olive or canola oil spray.
Cover with tomato basil sauce.
Bake uncovered at 350º for 45 minutes or until
bubbling. In the last five minutes of cooking sprinkle tops of shells with reserved SoySation®.
What Others are saying about "Heart Easy:"
"As a professional working in the health and wellness industry it is important for me to practice the lifestyle. Kac Young has made healthy cooking recipes not only easy and delicious, she has taken it one step further by adding valuable information on how to shop for ingredients and how to read labels which most people have no clue. Kac's cookbook is an investment in your health! Since I started using her recipes rather than putting a frozen organic dinner in the microwave I can honestly say I have more energy and my workouts have increased. She is truly inspirational. The cookbook is a bible for anyone interested in eating healthy!"
Debbi Abalos
Western Sales Manager
Health & Wellness industry
"I think everyone should eat this way. I'm giving this cookbook as a wedding gift to every newlywed I know so they can start their families in good health."
Ken Weinstock TV Producer
Contact: Helaine Ross Public Relations
310-246-1872
hrpr(at)sbcglobal.net