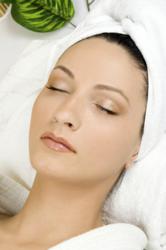 Compassion and touch can have an amazing, healing impact
Williamsville, NY (PRWEB) October 09, 2012
With the statistics of cancer on the rise, there is a very good chance a person living with cancer, their caregivers, or their family members would seek out solace in a stress free place such as a spa.
Face Fitness is now offering a Oncology esthetics as a method of dealing with these stresses. Oncology esthetics is working with a certified oncology esthetician that can help resolve oncology-related skin issues and provide a healing touch, utilizing the appropriate skin care products during treatment and recovery.
The stresses of every day day life added to the challenges of dealing with cancer can be overwhelming. Our focus is primarily on people living with cancer. Patients can have additional complications, other health issues or disabilities that have to be taken into consideration, which includes any side effects from chemotherapy, radiation therapy and medications. Also, there may be many changes in the skin as a result of cancer treatments, such as redness, rashes, peeling, very dry or thin and fragile skin with an increased sensitivity to sunlight. These skin changes can be remedied by providing a protocol pertaining to a patients' specific conditions.
Our estheticians will personalize spa treatments for each patients' individual needs, to ensure a successful outcome. For the patient; knowing that their esthetician is qualified and trained to deal with their skin care issues due to their cancer treatments, takes the added fear away and adds a comfort that they will be in the best hands while receiving their esthetic treatments.
Our skin care products are preservative and fragrance free and 100% sterile designed for any sensitivity; perfect to address any needs while undergoing cancer treatments and recommended by dermatologists.
Face Fitness Skin Care is the first spa in Buffalo, NY to specialize exclusively in esthetic dermatological-beauty needs in skin care and proud to announce the first to offer Oncology Esthetics in Buffalo, NY.
About the company:
With more than 25 years experience, the Face Fitness Skin Care professionals have cocktailed the finest ingredients from all of our skin care lines to create the best signature treatments available with visible results. Their goal is to educate their customers about their specific needs and customize a treatment plan to achieve healthy, beautiful skin. Face Fitness Skin Care's estheticians will recommend a facial best suited to their customers unique needs at the time of their appointment. For more information visit their website at http://www.facefitnessltd.com or visit us on Facebook at http://www.facebook.com/facefitness.