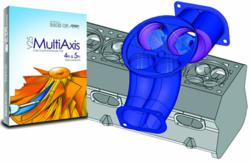 Clearwater, Florida (PRWEB) October 09, 2012
The latest BobCAD-CAM Version 25 Multiaxis module provides powerful machining technology for port machining giving the automotive industry, Racing industry and others an edge in CNC Port Machining.
The NEW 5 Axis PRO CAD/CAM software provides key features that would really benefit these industries. CNC programmers have a variety of new toolpath machining strategies to choose from including the ability to drive the cutting tool or "Morph" between Surfaces as a strategy. This option will create a morph toolpath on a drive surface. The drive surface can be enclosed by two check surfaces and "Morph" basically means that the generated toolpath is approximated between the check surfaces and evenly spread over the drive surface. Especially impeller machining with its twisted turbine blades or engine ports that can be machined using this method.
Another serious milling advantage is the new Adaptive Roughing machining strategy. The "Adaptive Roughing" machine strategy ensures that the cutting conditions remain constant by maintaining "Constant Engagement" of the cutter which offers great improvements compared to conventional constant "offset" type roughing strategies. Big benefits to using this strategy are:
a. Constant Cutting Conditions
b. The ability to use higher feed rates
c. You can extent tool and machine life
d. You can reduce overall machine cycle times on jobs
The fact that adaptive roughing can be used in 2, 3, 4 and 5 axis scenarios is important. Using constant tool engagement, incremental passes to progressively cut corners with support for intermediate slices and rest roughing dramatically reduces machine time and aids in providing the best finishes possible not to mention that we support multi-core CPU's which speeds up calculation time on programming as well.
At this time BobCAD-CAM is the only CAD/CAM company in the world that offers the
adaptive roughing strategy for full 4 and 5 axis CNC machining.
The new 5 axis PRO version also offers an EquiDistant Offset machining strategy. This type of toolpath finish machining allows the operator to create finishing toolpath that will maintain the exact step-over for the cutting tool regardless of the complexity of the surface being machined.
The consumers that do port machining will also benefit from the software's ability to retract out of the part by using the "Tube/Port" center.
This directs the cutting away from the surface when down in the port tube so it can exit by tracking the center of the tube up and then out of the part so the customer does not need to worry about hitting his part on the way out. With a variety of tool approach moves and links, ramping options and lifting to avoid rubbing included in this functionality, any machinist seeking to gain a serious advantage will want to have it.
BobCAD-CAM offers all the Power & Flexibility needed for complex multiaxis parts in an industry proven package, priced where software should be! For more information on the new BobCAD-CAM 5 axis PRO CAD/CAM software contact BobCAD-CAM directly at 877-262-2231 today or download a trial version at http://www.bobcad.com.