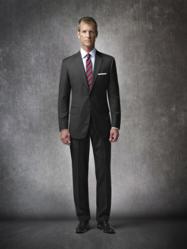 "There is a shift that occurs when you have clothes tailored to your body to your personal taste and to your lifestyle." Catherine Conway, Director of Merchandising
Franklin, TN (PRWEB) October 09, 2012
Tom James Company, the world's largest manufacturer and direct retailer of custom men's clothing, defines Power Dressing as the practice of wearing clothing that conveys influence and authority.
"While the phrase Power Dressing has been popular since the early 1980s," states their newly released 'Power Dressing with Tom James' video, "It's been in practice much, much longer."
In the last century the foundation for Power Dressing has been the suit. No one knows more about the suit than Tom James. They are the world's largest manufacturer of custom suits.
In business since 1966, they clothe men, and women, in over 100 locations in 7 countries, world-wide.
"We have the pleasure of working with a variety of clients who are in different stages of their lives," said Catherine Conway, Director of Merchandising for Tom James. "With custom clothing, the fit and style is up to our clients so our styles reflect that. We go from 'on-trend' looks to timeless."
According to Conway, the landscape of those who wear suits has changed over the years with the advent of the 'casual workplace,' "But those who meet clients or who truly need to inspire confidence through their appearance, still wear suits every day. In fact some companies have strict dress codes that specify: 'dark suit' and 'white shirt' – surely the cornerstone of Power Dressing."
Likely, some of the motive behind a more casual workplace comes from the perceived discomfort in wearing a suit. Tim Cornell, a Milwaukee clothier for Tom James, said if men had grown up wearing custom suits, casual days might not have happened.
"A custom suit is made to fit. When a suit fits, wearing it is an entirely comfortable experience," said Cornell. "First, you select a fabric that works for your climate, your routine, your lifestyle. Then you add superior construction that gives you the wear and comfortability you desire. That's what makes a Tom James suit the most comfortable suit you can wear."
This fall's lines, as introduced by Conway are meant to provide that comfort to a man's wardrobe. "Whether he is flying across the country to conduct business or in a traditional office setting to even entertaining in the evening, he looks powerful and he looks the part," said Conway.
"There is a shift that occurs when you have clothes tailored to your body to your personal taste and to your lifestyle."
"I really get this," said Cornell. "I've seen it happen with my clients. They continue to wear our clothing because they possess power when they wear a suit. And they can do it in comfort when they wear a Tom James custom suit. That's real Power Dressing."
Tom James operates 109 offices in 37 US states and 5 countries. It owns and operates 3 worsted woolen mills, 8 tailoring facilities and factories and is proud to say 95% of its finished clothing products are made in the USA.
For more information, consult http://www.tomjames.com.