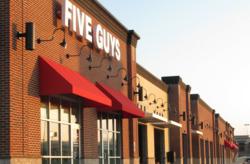 Jackson, Tenn. (PRWEB) October 08, 2012
With five new retailers and two car dealerships under development or just opened, The Columns a 600,000 square foot retail development in Jackson, Tenn. is showing some of the life that brought it national attention for years leading up to the recession. Gary A. Taylor Investments has recruited a mix of national and super-regional retailers to enhance the continued growth.
CarMax is locating to a five-acre site in Taylor's Columns II phase of the development. This is CarMax's entry into the Jackson Market. Adjacent to CarMax, Robinson Toyota is relocating their dealership from another Jackson location to a 5.4-acre site in Columns II.
Ghenghis Grill is also preparing to make its entry into the Jackson market. Genghis Grill will occupy 4,200 square feet in the new Shoppes of The Columns developed by Gary A. Taylor Investments (GAT). They are joining a long roster of national groups who have located in The Columns; – Buffalo Wild Wings is among the most recent development. Buffalo Wild Wings ranks its ten-month-old Jackson location as one of their top producers.
Five Guys Burgers and Fries, another new addition to the Jackson market, has located to 2,800 square feet of space in GAT's Shoppes of The Columns. The popular burger place, which opened in August 2012, has proven to be a hit among thousands of college and high school students as well as with the many shoppers in the area.
Sports Clips and Yogurt Square are also making their debut in Jackson. The franchises have chosen to locate in GAT's Shoppes of The Columns as well as Ima's a local clothing retailer. Ima's opened in September 2012 to a beautiful 7,000 square foot free standing facility showcasing women's apparel also in Columns II.
Gary A. Taylor Investment Company has developed more than 2,500,000 square feet of retail and commercial space in Jackson including Jackson Towne Centre, West Town Commons, The Columns and Vann Drive.
Current GAT developments underway in Jackson are Park Place East and West, Sandstone Village, all located on I-40 near a Sportsplex and a Seattle Mariners minor league baseball stadium.
Other active GAT developments are Casey Commons surrounding the new Comfort Inn and Suites at Casey Jones Village, the Shadow Creek Medical Park in North Jackson and Smith Farms, a 60-acre commercial retail development.
For more information on GAT developments see http://www.gatinvest.com.