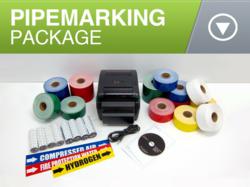 "The LabelTac 4 Pipe Marking Labeling Package gave us everything we needed to mark our pipes and the industrial printer included in the package has saved our company time and money by printing our own labels in house."
Lake Oswego, OR (PRWEB) October 10, 2012
Safety among the workplace is very critical in today's business where insurance rates keep climbing due to unnecessary accidents in and around the workplace environment. Labeltac.com is one of the leading suppliers of safety products and is now offering new label supplies for marking exposed pipes. Safety is made simple by labeling pipes properly of the content that is flowing through the pipes. Maintenance workers and service repair people will be able to know at a glance of what is flowing through the pipes and which direction the liquid is flowing. Both office and industrial facilities require pipes filled with possible hazardous liquids or water to help with the operation of the business. Accidents can happen if pipes are not marked properly and a repair is conducted without knowledge of what is in the pipe. Or time spent on finding out what is in the pipe can cost a business money by extra minutes or hours that is required for a service person to access the pipe's content.
Labeltac.com offers a complete package of LabelTac 4 Pipe Marking Labels including the LabelTac 4 Industrial Printer that can easily give a business a good head start on getting everything that is needed to label the pipes in a facility. This package is also a great tool to jump start any 5s safety program by the use of colored labels that visually inform and direct maintenance and service people for proper pipe repairs. The LabelTac 4 Industrial Thermal Printer will print not only pipe marking labels but also all 5s and lean labels in house. The labels are made out of durable material for both indoor and outdoor use and are resistant to UV, chemical, weather, water and is wear resistant and won't fade or smear over time. A safety supervisor of a business commented, "The LabelTac 4 Pipe Marking Labeling Package gave us everything we needed to mark our pipes and the industrial printer included in the package has saved our company time and money by printing our own labels in house."
Please visit http://www.labeltac.com/pipe-marking/ for more information about pipe marking labels or call toll-free (866)777-1360 to have all your questions answered.