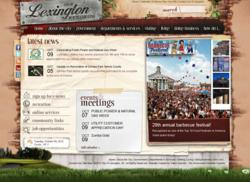 The new website has transformed the way our city communicates online and we're looking forward to continual growth of this outreach and addressing all constructive feedback.
Lexington, NC (PRWEB) October 11, 2012
The City of Lexington has launched its redesigned municipal website. Accessed at http://www.lexingtonnc.net, the new website launch coincides with the top 10 goals set by Lexington City Council for this fiscal year (July 2012 – June 2013).
"After months of a multi-departmental team effort by City staff, the redesigned website has made resounding progress towards City Council's Goal #6 - Diversify the brand of Lexington including marketing and image," informs Terra Greene, Lexington's Director of Financial and Information Services.
To achieve this goal, the new website introduces a number of government-focused interactive components, including:

E-News System - automatically updates subscribers with the latest news, bid opportunities, job openings, public meetings, etc.
Advanced Calendar System - organizes community events and allows site visitors to add events to their personal calendars
How Do I… navigation framework - provides easy access to frequently asked questions and other popular online requests
Form/Survey Tools with sophisticated tracking - gathers important information from the community, helping the City take action
Social Media – Facebook, Twitter and RSS feeds fully integrated with the new website
Spanish Translation – reaches a valued population in the Lexington community
As part of the redesign, the website's navigation received a complete overhaul. The main navigation is a floating menu that remains in place as the user scrolls down. This was a design first for Vision Internet and was created to provide easy user access and quick browsing.
The navigation now features strategically organized sections:
"Government" and "Departments and Services" focus on improving government transparency through easy-to-find information
"Visiting" promotes key tourism, the Uptown District, and Lexington amenities that drive economic activity
"Doing Business" speaks specifically to business recruiting and development (another of the top 10 goals for City Council)
"Living" caters to the specific needs of Lexington's citizens
"Since the launch, we've encouraged site visitors to complete our online survey about the new website and the results have been extremely positive," states Greene. "The new website has transformed the way our city communicates online and we're looking forward to continual growth of this outreach and addressing all constructive feedback."
The new website was created in partnership with Vision Internet, a national leader in government website development.
Vision Internet's award-winning government content management system powers the city's new website and enables staff members to easily make updates regardless of their technological background.
To learn more about how Vision Internet is helping municipalities reconnect with their communities, please visit http://www.visioninternet.com/demo.
About Vision Internet:
Vision Internet is the national leader in government website development with nearly 500 government, non-profit, and education clients across the US and Canada. Over the past 16 years, Vision Internet has been creating industry-defining websites for communities ranging in populations of less than 1,000 residents to more than 5 million. Widely recognized as the government website experts, the company has earned hundreds of prestigious industry awards for its unique websites.