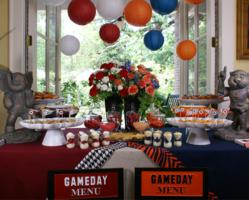 We are always looking for ways to improve the experience for our clients
Foley, Alabama (PRWEB) October 31, 2012
Not having season tickets is no longer an excuse to skip celebrating college football this season. For those lacking the time, budget or just plain desire to watch the game in makeup melting, sweltering heat or soon to be frigid temps- that's anything below 70 degrees for those of us in the South- the ladies of GO Chic! introduce their own version of the growing "Homegating" trend.
Homegating with GO Chic! offers collegiate fans a new approach to the company's chic, modern and custom designed tailgating gear- including tent chandeliers that have inspired impromptu dance parties after the final play in many loyal fans!
How is homegating with GO Chic! different from other spirit-filled football festivities? "We are always looking for ways to improve the experience for our clients, and that includes focusing on well-made products that will last for seasons to come," said Sandra Helton, co-owner and creative designer at GO Chic!
"We have fun focusing on the details to create products you cannot find anywhere else to make a memorable occasion," added Helton.
Calling on their more than 50 years of interior decorating and design experience, the GO Chic! team recommends channeling your team- or teams for many who claim house divided status- from the front door to the food so that guests feel the ease of a seamless transition throughout the home. Let the entire house celebrate the occasion, rather than limiting it to one or two rooms.
The front door greets guests with a square grapevine collegiate door wreath. In a house divided? Hang two on parallel windows or French doors to embrace competing teams.
Continue this theme with collegiate themed toss pillows in the main room and an antique bronze mascot statue acting as a door stop. Top off the table with a custom runner or tablecloth in team colors.
Embrace competitive nature in the kitchen with parts of the menu built around each team with menu boards dictating what's to eat and one drink tub for each set of fans. Get bonus points for filling competing drink tubs with beer and soda from each team's region!
Be sure to add the look of one of GO Chic's signature tent chandeliers by adding team-colored lamp shades to your existing light fixture. These shades can be customized in a plethora of color choices and adds a fun-meets-traditional vibe when installed in the home.
Top it off with recipes from shopgochic.com, as well as something special for the hostess with suggested collegiate colored frocks found on Pinterest boards by GO Chic! and you are just a guest list away from the homegating event of the season...and on a large screen TV you will even have better seats than fans in the stands!
About GO Chic!
GO Chic! is a custom tailgate and party décor company that has been in business for 3 years. Based in Foley, Alabama, GO Chic! has three generations of design experience, and is committed to manufacturing original products in the United States. Attention to every detail throughout the hands-on design and fabrication process ensures the highest quality products the customers have come to expect. To view the collection and for ordering information go to http://www.shopgochic.com.