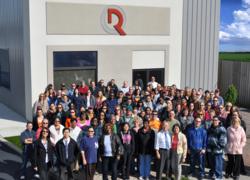 "We've been growing organically from within," says Ho. "New products, geographic expansion and acquisitions have all contributed to our growth."
Rochester, NY (PRWEB) November 14, 2012
Rochester Optical, an independently owned and operated wholesaler and manufacturer of high-quality eyewear and lenses, has been named one of the Rochester Business Alliance's Top 100 for the third year in a row. Each year the Rochester Business Alliance and KPMG LLP sponsor the Rochester Top 100, which recognizes the fastest-growing privately held businesses in the Rochester, NY region. Rochester Optical is one of four minority owned businesses on the list.
Since World War II, Rochester Optical has provided combat ready eyewear for soldiers. Rochester Optical introduced the next generation of military eyewear in 2012. Rochester Optical CEO Patrick Ho says military contracts are only one part of the picture.
"We've been growing organically from within," says Ho. "New products, geographic expansion and acquisitions have all contributed to our growth."
Rochester Optical owns a newly remodeled full-service optical lab providing digital lenses, A/R coating, glass lenses and a wide array of services. Ho attributes the company's success to a forward thinking business model and a talented team of employees from a wide range of backgrounds and expertise. For Ho, diversification is the key to growing in rough economic times.
"Growth is in every aspect, every fiber of this company," says Ho. "When you think that way, the economic environment is a moot point."
Rochester Optical has been averaging over 20% growth over the last few years. It has increased its workforce by roughly 18%, adding 24 jobs in 2011. Ho expects more growth through 2012.
"We hope to maintain that momentum and double our sales in three years," Ho says.
Rochester Optical, founded in 1932, is an innovative manufacturer and distributor of high quality digital lenses, eyewear and eyeglasses. The Rochester, NY based company serves optical professionals, military and government agencies, and other companies with fashion, performance and safety eyewear. Its full service optical lab provides a wide variety of services, including in-house digital lenses, its own state-of-the-art A/R coating lab, and specialty glass fabrication. Rochester Optical has been named as one of Rochester, New York's Top 100 Fastest growing companies three years in a row. Visit them on the web at http://www.rochesteroptical.com.