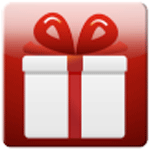 "mGifts is the perfect Santa's helper for those just trying to find that perfect gift for that special someone." Ray Marshall, CEO of mSeven Software
Portland, Oregon (PRWEB) November 14, 2012
Do you want to buy that perfect present for everyone on your list but struggle keeping track of it all or do you need a place to keep the model number of that laptop on your wife's wish list? To make gift giving fun and easy, mSeven Software, makers of the leading password manager mSecure, will be reducing the price of its powerful mGifts Gift Manager to $0.99 (regularly $4.99) starting today and going through Cyber Monday (November 26).
Feature-rich mGifts is the perfect gift management solution for those wanting to ensure no one is forgotten this holiday season. mGifts is given high scores by users in the iTunes store for its versatility in managing gift events throughout the year making mGifts a superior gift manager:
Organize your Gifts List

Organize, view and edit lists by gift, person, store, and groups
View gift list by store to better plan your shopping trips
Create groups to better budget and prioritize your gift list
Track the status of your gifts by needed, purchased, wrapped or shipped flags to help track the entire gifting process, complete with icons and photos for easy viewing.
Keep your Gift List Synchronized

Synchronize via iCloud so that all gift lists can be kept current on all your devices at all times.
Optional 4-digit PIN to keep out the curious.
Powerful Budget Management

Budget manager keeps a running tally of how much has been spent to date, by gift receiver or event.
View your budget and money spent by groups like Family or co-workers to make sure your money is allocated properly.
"Christmas is less than 45 days away and it will be here before you know it! mGifts provides a fun and convenient way to ensure that you give the perfect presents this holiday season by keeping track of all of your gift giving opportunities," said Ray Marshall, founder and CEO of mSeven Software. "mGifts is the perfect Santa's helper for those just trying to find that perfect gift for that special someone."
The new 3.2 version of mGifts has added support for iPhone 5 taller screen and iOS 6 improved rotation feature. mGifts is a universal app, meaning that if you buy it for your iPhone, it will operate on your iPad and sync your data automatically for no-extra charge (both devices must be connected to the same iTunes account).
About mSeven Software
Based in Portland, Oregon, mSeven Software has developed and supports mGifts and several other applications for the iOS, Android, Mac OS and Windows platforms. As a leader in the productivity category, mSeven Software operates on the principle that useful software is "made simple for everyday users."
For more information:
Contact: David Pfeiffer
Phone: 262-968-1940
Email: dave(at)msevensoftware(dot)com
Web: http://msevensoftware.com
Apple, iPhone, iPad, iPod are either registered trademarks or trademarks of Apple in the United States and/or other countries. mSecure, mGifts, mSevenSoftware are trademarks of mSeven Software LLC.