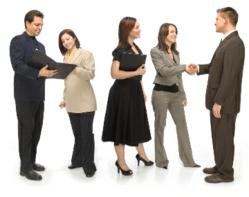 We are witnessing considerable positive movement at present, both as a result of AIPPI and from our regular clients
London, United Kingdom (PRWEB) November 14, 2012
It seems Fellows and Associates, boutique management and recruitment consultancy focussing solely upon the Intellectual Property sector have their work cut out for them over the coming months with many successful leads uncovered during their attendance at AIPPI's 43rd World Intellectual Property Congress last month.
The Congress is hosted by AIPPI, the International Association for the Protection of Intellectual Property which, by dating back to 1897, is the world's oldest global IP association. This impressive lineage attracted attendees to South Korea from across the globe, including Europe, the United States of America, Australia and Asia. Fellows and Associates' excitement prior to their trip had already been highlighted in an earlier press release and it seems that the firm were right to feel positive with them securing meetings with clients from a broad range of the countries that attended.
First time attendee, Phillipa Field, is a Consultant at Fellows and Associates and it seems that her lack of prior presence did not hinder her in reaping the many benefits that were on offer. "I had a fantastic time at AIPPI; it certainly was an intense few days but I am a strong believer in receiving equal to that which you put in." This mentality certainly seems to have worked with Phillipa adding "I am so pleased with Fellows and Associates' success during the Congress and excited about what this could spell for our future as a firm."
It wasn't just potential work that Fellows and Associates sought out from attending the Congress; they were also keen to build upon existing relationships as well as creating new ones. Pete Fellows, Director of the firm, says "We have always regarded networking and attending events such as AIPPI as integral to our business model as it reflects our commitment to the industry. I feel that Fellows and Associates can provide a service that others may not; this is due to us having the opportunity to discuss topical issues surrounding IP with other IP professionals, attend workshops that are made available to us - such as the Mock Patent Trial at AIPPI - and learn of current and future initiatives that may affect the industry. All of these factors can help us in taking a more conversant approach to our business."
Before the firm attended the Congress, Phillipa Field was quoted as being "keen to bring awareness of Fellows and Associates to a truly international level" and it seems they are certainly on their way to achieving this with Phillipa enthusing on her return that "It was encouraging and exciting to discover that some firms outside of the UK were already aware of Fellows and Associates. This really shows that our constant networking is proving successful in promoting our brand and cementing Fellows and Associates as the recruitment firm to contact in the Intellectual Property sector."
Fellows and Associates have also noted success a little closer to home on their return, with them securing substantial work from their established clients in the UK. Sienna Johal, Researcher at Fellows and Associates, muses "We are witnessing considerable positive movement at present, both as a result of AIPPI and from our regular clients and it does seem that we have plenty to be excited about."
Fellows and Associates certainly seem unwavering at present and, although they are careful to remain focussed, it seems their determination and commitment is certainly paying off.
About Fellows and Associates
Fellows and Associates pride themselves on providing a boutique range of recruitment services, including contingent and retained campaigns with advertised selection and targeted search assignments. They recruit Patent Attorneys, Trade Mark Attorneys, IP Lawyers and other Intellectual Property professionals worldwide. 'Fellows Business Consulting' is a new arm of the firm offering targeted strategic advice to firms within the Intellectual Property sector worldwide. See fellowsandassociates.com for more or phone +44 207 903 5019.